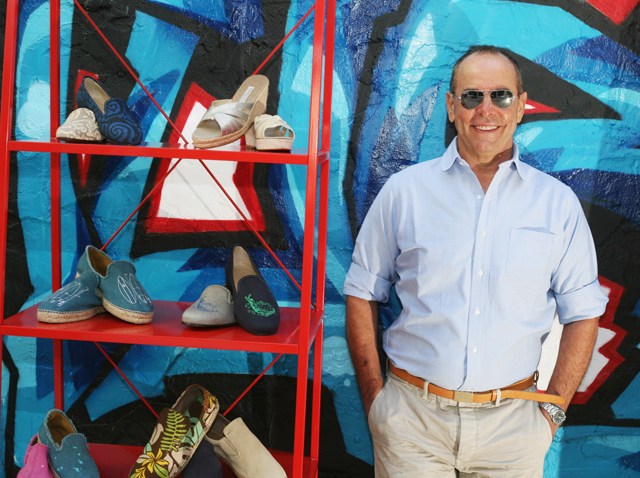 Velvet evening slippers are everywhere this season: J.Crew is selling leopard versions, Christian Louboutin's are studded, and Mary-Kate and Ashley Olsen paired them with every look for their Fall 2011 offerings for The Row.
This shoe style, of course, is nothing new. Prince Albert popularized them during the 19th century -- so much so that velvet slippers got the nickname "Prince Alberts." Images of Hugh Hefner lounging around the Playboy mansion in silk pajamas and velvet slippers are iconic. But if anyone should take credit for bringing them to a new generation of fans, it is Percy Steinhart, the founder of Stubbs & Wootton. Steinhart was working at Citicorp in the 1990s (now Citigroup) when he says, "I saw something happening in Palm Beach, all of my friends were wearing these velvet evening slippers. I thought I could do something more diverse, and more whimsical with it."
Steinhart found a factory that would make his quirky velvet slippers with emblems ranging from harlequins to crests to skulls in Spain, and in 1993 Stubbs & Wootton was born. Stores in Palm Beach, New York City and the Hamptons followed.
Soon the line grew to include needlepoint slippers ("I wanted to recreate the slippers Edwardian country women used to needlepoint for their husbands"), bags, espadrilles and mules. "I looked at the classic men's stores like Brooks Brothers and what they were doing at the time, and I knew I was on to something," Steinhart says. "There is only a finite group that want to be wearing the Prince of Wales crest."
Steinhart says his design ideas come from anywhere and everywhere. "Seeing a certain embroidery on the street, ironwork, Scottish royalty, dragons -- a lot of it is just spur of the moment inspiration."
The brand's unique positioning has allowed it to gain a cult following over the years, with devotees that are known to brag about how many colors and styles they own, some heading to the brand's Facebook page to show off their collection. "People send me photos of their closets full of Stubbs. I have a very posh woman client in Palm Beach who built her closet around her Stubbs collection," Steinhart says.
Steinhart took great pains to grow the niche brand among a younger age set. "We've really been working hard to reach out to a younger population," he says. "I hear a lot of, 'If my grandmother or mother would wear it, I don't want to wear it.' I was in the store recently and there was this 15-year-old girl who got a pair. She told her mother, 'You can't buy these now.'"
Steinhart's efforts to reach a younger customer seem to be working. Kanye West is rumored to have a closet full of Stubbs (even wearing a pair to the CFDA awards in June). Leandra Medine, otherwise known as the Man Repeller regularly blogs about them. And collaborations with Michael Bastian and Marc Jacobs in recent years have helped to broaden their appeal.
As for the copycats, Steinhart is not phased. "Traditional velvet slippers made in England cost five times as much as ours, ten times as much if they are bespoke," he says. "Other companies that do them here and there like Ralph Lauren charge twice as much. And the brands that are charging less are doing something completely different than we are."
And competition certainly isn't cutting into growth. Steinhart says the sales of his velvet slippers are up around 40 percent since last year. "I just heard from our Southampton store that someone walked away with twelve pairs today. Now that's a lot of shoes."