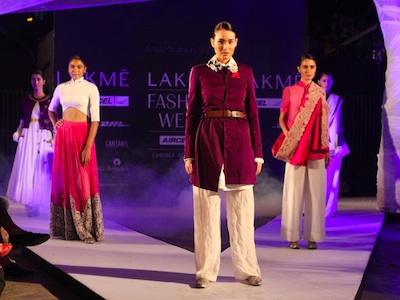 India is steadily becoming a fashion-industry force to be reckoned with, with a 40-percent increase in buyer attendance at both last month's Mumbai's Lakme Fashion Week and this month's Wills Lifestyle Fashion Week in Delhi, WWD reports.
While Indian influence has long been woven into Western runway trends, the country's growing crop of contemporary designers is helping to expand that reach. Beyond featuring India's internationally embraced traditional dyeing techniques and beadwork, Fashion Week events have helped showcase homegrown designers, in their own right. Delhi's shows have centered on fall/winter, career-focused styles, and Mumbai's, on resort and Bollywood-inspired formalwear.
Gilt Groupe's VP of brand relations, Christian Leone told WWD, "I think there is an unbelievable amount of talent here [in Mumbai]...Retail is a bit of a challenge here which makes digital solutions all the more relevant."
Which means, we may start to see a growing presence of Indian designers available here in the States—according to the report, U.S. buyers are among the growing number flocking to India fashion weeks—whether on Gilt, or the nearly-year-old site, Exclusively.In, which hosts the same type of daily sample sales by Indian designers.
Between burgeoning design communities in India, as well as a similar movement growing in South Africa, the Western fashion world is poised for an influx of globalized style—a thrilling prospect, indeed.