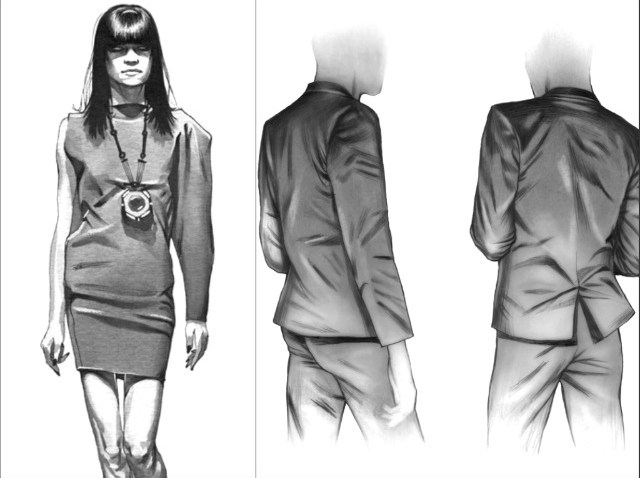 Besides a hand for enchanting graphite sketches of runway styles and romantic fashion set against sweeping landscapes, commissioned illustrator Michael Hoeweler brings to his craft a range of references that spans 19th-century European painting, anatomy and Prada's Spring 2008 prints by James Jean.
We caught up with Hoeweler to see how his ideas come to paper for clients from Out magazine to Gilt Groupe — as well as a few coming-soon publications he can't name just yet.
How did you get started as an illustrator?
I started out by studying to be a fine artist, specifically painting and drawing. I made the move towards illustration when I realized that illustration was a good platform for universal communication and expression. From there, I chose to learn more about where my illustrations would be best suited, and had art department internships with magazines such as Out.

What inspires your sketches?
Life! My work tends to cover a lot of ground when it comes to content. Truly, my wanderlust and inherent curiosity define the content of my work, and my obsessions will always read loud and clear to the attentive viewer.

What are some of your "obsessions"?
To name a few: North American wildlife and landscapes, flowers, American culture and class systems, emotive narratives expressed by environment and atmosphere, Queer theory, the Romanticist movement, late 19th-century European painting, Ukiyo-E prints and the human body.

How has the art of fashion illustration evolved over time? With hi-def/hi-res photography, what place does illustration hold in fashion and art?
Fashion illustration really started in two manifestations, the first being a way for clothing designers, retailers, and advertisers to communicate to consumers the appearance, fit, and lifestyle with a garment. The second started in fine art, with the genuine obsession with clothing as a loaded and beautiful idea to depict. Over time, illustrators in the early and mid-20th century had more of a claim-to-fame for their practice, and were regarded as celebrities and fine artists just as much as they were illustrators. Illustrators like René Gruau, who worked with Christian Dior, Piere Balmain, Cristobal Balenciaga, and Elizabeth Arden, or John Whitcomb, whose work epitomized the popular, editorial, life-style/fashion illustration hybrid. These illustrators really defined the golden age of fashion illustration.

Today, and especially in the last 30 years, photography has become a popular, efficient, and effective way of advertising a product. This is important, especially seeing as the fashion industry (and even the high-fashion niche) has become so much more retail, consumer, and revenue focused than ever before.

Fashion illustration in its most popular incarnation is still important for most designers, who use illustrators or draw themselves in order to better design a garment or look. Other outlets include advertising and publication illustrations, where fashion illustration is used to more creatively depict a garment or look. Special design partnerships, like when Miuccia Prada invited James Jean to create illustrations to be printed on the garments in her Spring 2008 collection, are rarer, but offer more hope for the chance of such a creative future for fashion illustration.

How is your personality conveyed in your work?
I think more than anything my work conveys how curious I am about the characters and identities that people assume when they wear specific brands, so I tend to see the sky as the limit in my work. Why can't a girl run around a burning field in Rodarte?

What can we expect from you in the near future?
I'm never one to kiss and tell, but I will say that I'm working with a great publication this month on an exciting new project that they'll be unveiling soon.