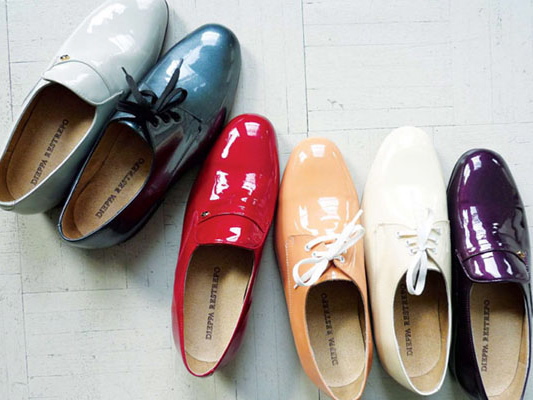 Andrea Vargas Dieppa and Elisa Restrepo claim their shoe collection, the inimitably hip Dieppa Restrepo, came together more or less "by accident." Both women loved the idea of a shoe collection "and just kind of jumped in together," Restrepo explains. "There was never really any time to debate or doubt it."
Their line has quickly become a go-to brand for hip urbanites seeking foot-friendly gear that goes with most anything in their closet. Which isn't to say that the shoes are "basic," by any means; rather, The Dieppa Restrepo shoes embody a modern classic aesthetic, simple enough to wear everyday but still statement-making.
"The overall look of all our collections are, I think, masculine and timeless," says Dieppa. "The only thing that makes them change is the mood we bring into them with different materials and colors each season."
The Colombian-born designers both honed their aesthetic at New York City design schools, Restrepo attending NYU for theatre as well as Parsons' design program in Paris while Dieppa pursued graphic design at the School of Visual Arts. The ladies credit a fortuitous sidewalk encounter with Steven Alan as the real launch point their career.
"We were both always interested in this same type of shoe," says Dieppa. "It was actually this super basic clean white patent lace up prototype we made, which is one of the classic styles we started with and still sell up to this day. We saw people loved it when we wore them, they would stop us on the street. I had them in white and Eli in navy blue. Then one day Steven Alan stopped me in a cafe in LA, asked me who made them. They were our line and then he just placed our very first order!"

The rest, as they say, is history. As the line continues to grow, the girls are keeping their stylishly-clad feet planted firmly on the ground. "We always feel the same in terms of color and design," says Restrepo. "Somehow, it always ends up working out."