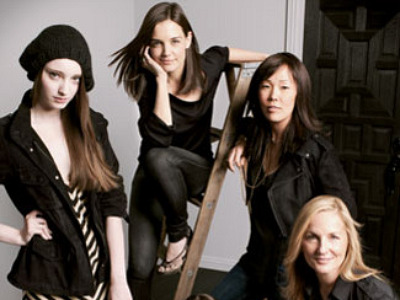 Katie Holmes and stylist Jeanne Yang are set to drop their fall 2010 collection this month, and recently showed off their wares in Elle.
Besides the fact that the label falls under the precarious celebrity-collaboration umbrella and carries rather astronomical price tags, Holmes & Yang seems rather understated and chic. In the Elle interview, the ladies behind the line talked about their inspirations, from ballet to their daughters and garnered from the writer such lofty praise as a comparison to Phoebe Philo's Celine.
The well-constructed separates do indeed promise to make for go-to standbys in an elite wardrobe. It's got a bit of tomboy simplicity, a bit of sophisticated detailing and a variety of references to decades past. The line also gets extra points for seeming to be the product of quite genuine interest, if not necessarily hands-on skill: The article references both ladies' life-long sewing talents, but it's not immediately clear what they are actually, themselves, making by hand.