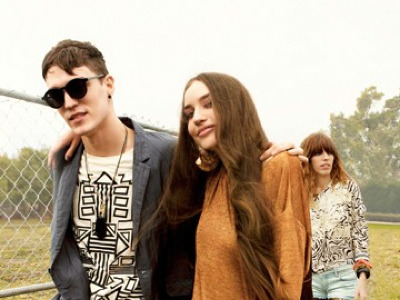 Just in time for summer festival season, H&M's new dedicated line of clothing, accessories and rockstar camping gear whose proceeds benefit their Fashion against AIDS efforts.
Even if you don't aspire to dress like Kate Moss in wellies and a minidress, at least you can avoid muddy arrangements of overdue-for-a-wash shorts and where-did-that-come-from old tees. H&M's 20-piece go-to uniform includes an assortment of festival-worthy attire, from rather unfortunate (but perhaps lovable in a bohemian sort of way) fringed tunics to staples like cut-offs, embellished tops, and gladiator sandals. The 12 pieces for men include biker jackets, slim blazers and shirts and shorts that look appropriately distressed (but not embarrassingly so). The accessories to go along with the outfits range from a leopard-print tent and sleeping bags to headphones and totes.
Though one might not recognize them right away, music royalty abroad's second generation stars of the ad campaign -- Lou Doillon and Lizzie Jagger -- creating a nice bridge between rock-n-roll clothes and, well, rock 'n' roll itself.