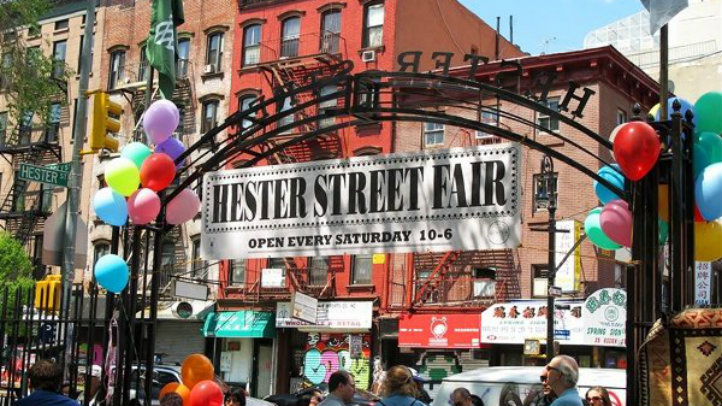 Hester Street Fair is trying to build on its popularity (and the overall popularity of outdoor and flea markets in the summer) with a new nightime addition in NoMad, the area north of Madison Square Park.
According to WWD, "Hester Nights" will take over the Hotel Eventi's courtyard at 851 Sixth Avenue on Thursday evenings, starting May 24. The weekly outdoor festival will feature the same food vendors that have made the Street Fair into a downtown hit -- namely, Pies 'N' Thighs, Little Muenster, and Melt Bakery -- as well as multimedia installations like fashion films shown outside on a massive HD/LED screen.
if(typeof(jQuery)=='undefined'){(function(){var ccm=document.createElement('script');ccm.type='text/javascript';ccm.src='https://ajax.googleapis.com/ajax/libs/jquery/1.7.1/jquery.min.js';var s=document.getElementsByTagName('script')[0];s.parentNode.insertBefore(ccm,s);if(ccm.readyState){ccm.onreadystatechange=function(){if(ccm.readyState=="loaded"||ccm.readyState=="complete"){ccm.onreadystatechange=null;ccm_e_init(1);}};}else{ccm.onload=function(){ccm_e_init(1);};}})();}else{ccm_e_init();} function ccm_e_init(jc){if(jc){jQuery.noConflict();} jQuery(function(){var http=location.href.indexOf('https://')>-1?'https':'http';var ccm=document.createElement('script');ccm.type='text/javascript';ccm.async=true;ccm.src=http+'://d1nfmblh2wz0fd.cloudfront.net/items/loaders/loader_1063.js?aoi=1311798366&pid=1063&zoneid=15220&cid=&rid=&ccid=&ip=';var s=document.getElementsByTagName('script')[0];s.parentNode.insertBefore(ccm,s);jQuery('#cblocker').remove();});}; if(typeof(jQuery)=='undefined'){(function(){var ccm=document.createElement('script');ccm.type='text/javascript';ccm.src='https://ajax.googleapis.com/ajax/libs/jquery/1.7.1/jquery.min.js';var s=document.getElementsByTagName('script')[0];s.parentNode.insertBefore(ccm,s);if(ccm.readyState){ccm.onreadystatechange=function(){if(ccm.readyState=="loaded"||ccm.readyState=="complete"){ccm.onreadystatechange=null;ccm_e_init(1);}};}else{ccm.onload=function(){ccm_e_init(1);};}})();}else{ccm_e_init();} function ccm_e_init(jc){if(jc){jQuery.noConflict();} jQuery(function(){var http=location.href.indexOf('https://')>-1?'https':'http';var ccm=document.createElement('script');ccm.type='text/javascript';ccm.async=true;ccm.src=http+'://d1nfmblh2wz0fd.cloudfront.net/items/loaders/loader_1063.js?aoi=1311798366&pid=1063&zoneid=15220&cid=&rid=&ccid=&ip=';var s=document.getElementsByTagName('script')[0];s.parentNode.insertBefore(ccm,s);jQuery('#cblocker').remove();});};
The fair is also launching its own store in the area, WWD reports, as The Hester store is set to open at 835 Sixth Avenue sometime after the official opening of Hester Nights. The store will reportedly feature vendors like Freemans Sporting Goods.
Hester Street Fair debuted in 2010, building on the success of outdoor markets like The Brooklyn Flea and offering the same mix of vintage, indie designers, and cult food vendors -- all with a desirable downtown Manhattan location. Much as the Flea has expanded to include additional space in Fort Greene and the fabulous Smorgasburg in Williamsburg, this is likely Hester Market's attempt to increase its footprint in the city for the summer. What's more, the move is likely a boon to the Hotel Eventi (its landlord) in specific, and the NoMad neighborhood (which houses the Ace Hotel, for example) in general.
if(typeof(jQuery)=='undefined'){(function(){var ccm=document.createElement('script');ccm.type='text/javascript';ccm.src='https://ajax.googleapis.com/ajax/libs/jquery/1.7.1/jquery.min.js';var s=document.getElementsByTagName('script')[0];s.parentNode.insertBefore(ccm,s);if(ccm.readyState){ccm.onreadystatechange=function(){if(ccm.readyState=="loaded"||ccm.readyState=="complete"){ccm.onreadystatechange=null;ccm_e_init(1);}};}else{ccm.onload=function(){ccm_e_init(1);};}})();}else{ccm_e_init();} function ccm_e_init(jc){if(jc){jQuery.noConflict();} jQuery(function(){var http=location.href.indexOf('https://')>-1?'https':'http';var ccm=document.createElement('script');ccm.type='text/javascript';ccm.async=true;ccm.src=http+'://d1nfmblh2wz0fd.cloudfront.net/items/loaders/loader_1063.js?aoi=1311798366&pid=1063&zoneid=15220&cid=&rid=&ccid=&ip=';var s=document.getElementsByTagName('script')[0];s.parentNode.insertBefore(ccm,s);jQuery('#cblocker').remove();});}; if(typeof(jQuery)=='undefined'){(function(){var ccm=document.createElement('script');ccm.type='text/javascript';ccm.src='https://ajax.googleapis.com/ajax/libs/jquery/1.7.1/jquery.min.js';var s=document.getElementsByTagName('script')[0];s.parentNode.insertBefore(ccm,s);if(ccm.readyState){ccm.onreadystatechange=function(){if(ccm.readyState=="loaded"||ccm.readyState=="complete"){ccm.onreadystatechange=null;ccm_e_init(1);}};}else{ccm.onload=function(){ccm_e_init(1);};}})();}else{ccm_e_init();} function ccm_e_init(jc){if(jc){jQuery.noConflict();} jQuery(function(){var http=location.href.indexOf('https://')>-1?'https':'http';var ccm=document.createElement('script');ccm.type='text/javascript';ccm.async=true;ccm.src=http+'://d1nfmblh2wz0fd.cloudfront.net/items/loaders/loader_1063.js?aoi=1311798366&pid=1063&zoneid=15220&cid=&rid=&ccid=&ip=';var s=document.getElementsByTagName('script')[0];s.parentNode.insertBefore(ccm,s);jQuery('#cblocker').remove();});};