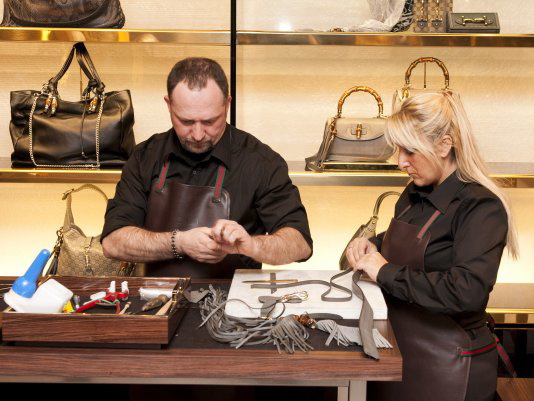 Ever wonder what it takes to make a $1000 handbag? Well, soon you'll have a chance to find out. Master leather workers from Gucci have been touring the world for the past three months, offering free demonstrations and customized bags at specal "artisa corners" of Gucci stores, but this April they're heading stateside.
Each artisan corner is stocked with custom work tables, sewing machines, leather stands and metal working tools, allowing the craftsmen to build their bags from the initial stages (like mood boards and sketches) to the finished product we know and love. Demonstrations will also include drool-worthy bonuses like a commemorative plaque on the bag's interior, or initial embossing.
Each artist event will be preceded by a VIP party before the "corners" are made available to the public. As part of Gucci's "Forever Now" campaign, the artists will be customizing their wares, but a strong emphasis will remain on Gucci's signature handbag offerings--so don't ask for a bamboo-handle diaper bag, or anything.
April 19: San Francisco, 240 Stockton Street
April 22: Beverly Hills, 347 North Rodeo Drive
April 26: Chicago, 900 North Michigan Avenue
April 29: New York, 725 Fifth Avenue