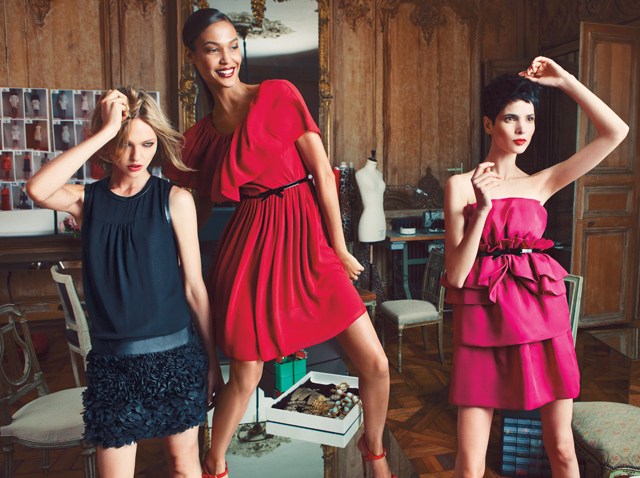 Ever since Macy's launched its first foray into the designer collaboration game with its Kinder Aggugini collection (created under the store's Impulse brand), the department store has been booking increasingly noteworthy designer names, from Matthew Williamson to Karl Lagerfeld.
The latest designer to unveil a collection for Macy's is Giambattista Valli, a talent whose luxurious dresses and feminine looks have earned a cult following among both the young fashion-forward set as well as more mature clients. Valli designs with an eye toward luxury, and recently even launched his first couture collection, so needless to say, the designer was an ideal choice to fill the coveted slot just shy of the holidays for Macy's.
At a preview of the collection, the vice president and fashion director of Macy's, Nicole Fischelis, said that the capsule genuinely reflected Valli's sensibility. "The animal print, that fabric with all the shimmer and the shine, and the draping and the construction of the clothes ... He's very happy with it. And the value for it is incredible."
Fischelis had a clear vision of Valli's allure from a marketing perspective as well. "What we like about Giambattista is his sophistication and his understanding of the young, sophisticated woman," she said. "He has his own following of 'Valli girls'! I was in Paris covering Fashion Week, and you shold have seen the crowd backstage. Gorgeous young girls that are fashionistas, but completely understand his aesthetic. We like that vibe. We like his approach and his luxury sense -- the whole idea of couture for this generation."
While the collection doesn't quite stand up to holiday-focused collections like Lanvin's spectacular line for H&M -- in truth, more than one editor has confessed that Lanvin's collaboration was the last such effort that was truly memorable -- there is definitely than enough fodder here to tempt pre-holiday shoppers. The collection's real stand-outs are a shimmery leopard print, cap-sleeve dress ($109), a strapless purple cocktail frock with frothy layers ($139), and a voluminous organza skirt that looks like textured little rosettes ($99).