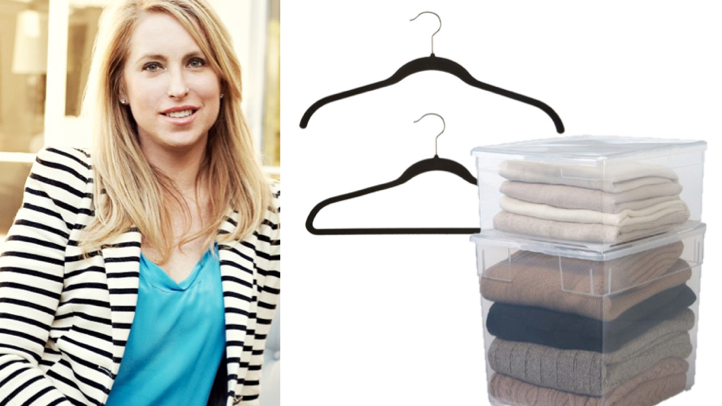 While spring is a season for new floral dresses, pedicures, and sandals, it's also traditionally known for something else: closet cleaning. In our spring cleaning series, we tackle the ins and outs of making way for the new.
Having to sort through a mass of winter sweaters and heaps of mismatched heels can make getting dressed in the morning a truly stressful endeavor. Luckily, Tori Springer, owner and founder of the organization serivce, Simply Simplify, is ready to whip our wardrobes into shape for the new season. Here, the organization expert spills her favorite tricks of the trade, from killer Container Store finds to the ultimate space-saving hanger.
What's the single biggest organization mistake women make when it comes to their closets?
"Women tend to keep things that don't flatter them and they know it, or things they haven't worn in more than two years hoping it will grow on them again. Or they keep sentimental clothing hanging in
the closet. That is prime real estate! Only keep things you like to wear (and that are in-season) in the closet. It's time to move that sweet sixteen sweater to the attic!"

When it comes to identifying pieces to donate or give away, what's your rule of thumb?
"If it's broke, fix it, or forget it! Don't keep pieces around that have buttons to be sewn on or snags to fix. Have your dry cleaner spruce them up with your next drop off or give them to someone in need."

Since it's springtime, we're ready to pack up some of these bulky sweaters. Any convenient storage tips?
"The Container Store is my one-stop-shop for the ultimate fantasy world of organizing. I love their sweater boxes for easy content viewing, or their grey storage bags, which protect clothing and zip closed. For the ultimate space saver, their space bags are otherworldly!"

What's the best way to tidy up a hanging rack?
"The must-have, go-to hanger for every closet is the Huggable Hanger. I doubled the size of my closet with just these alone. And fold your basics! If you need room, get your tees and tanks into drawers. Put your scarves in a basket and place your jeans in a cute bin."

Shoes are always the biggest organization challenge for us. Is there a sure-fire way to keep them tidy without sacrificing a ton of space?
"Yes! Change them out seasonally. Move those winter boots under your guest room bed or to that hard-to-reach hallway closet shelf and bring in your summer sandals. It's twice a year ladies, you can do the big swap out. It makes a huge difference!"
What closet-organizing gizmo or product couldn't you live without?
"My P-Touch label maker is a lifesaver! Now they come with fun fonts and colors too! Also, Martha Stewart has a great line of labels through Staples. You can print them out on your home computer.
Get creative in your labeling, ladies!"