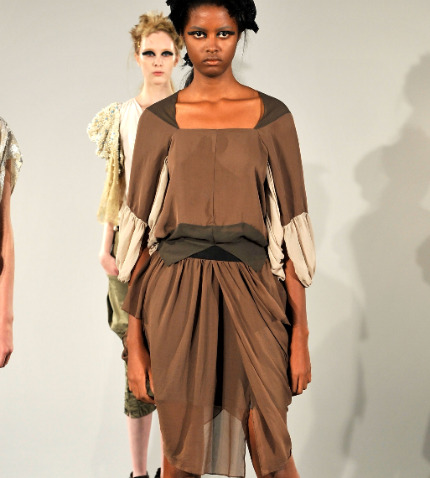 One might assume that most designers would be relishing in the relief and relaxation of having sent their Spring/Summer 2011 collections down the runway. But in Gary Graham's case, the New York-based designer has more to share.
WWD reports that Graham—a darling among the indie-design set who recently presented his spring line this past Saturday—has announced the launch of Anagram, a 20-piece capsule collection inspired by pieces from his namesake line.
While retail prices for Graham's current label hover in the $600 to $1,200 range, Anagram pieces will be priced between $300 and $420, a drastic cost difference based on the use of less-expensive fabrics such as natural-washed silks and cottons.
Based on price alone, the collection is likely to attract a larger consumer base, however Graham's trademark romantic, carefully-considered style won't be diluted in the process. Pieces include a hand-knitted cardigan that can be worn upside down, a georgette tunic inspired by one currently available in his eponymous collection—as the name suggests, the garments are rearrangements of existing designs.