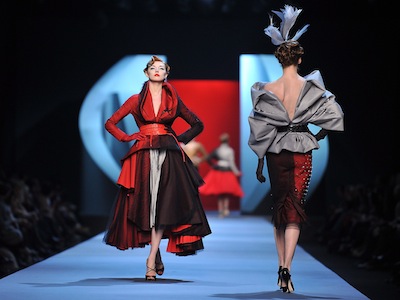 As John Galliano stands trial in France for the antisemitic remarks that got him fired from Dior, his former employer is adjusting the planned Paris fashion week presentations of both Dior and Galliano collections today and Sunday, respectively.
The Dior show will go on this afternoon, but is expected to be stripped of its usual star-studded spectacle, with media barred from backstage and front-row access prior to the show. WWD also reports that LVMH head Bernard Arnault—typically front-row and center with a bevy of boldface names surrounding him—may skip the event in light of recent events.
When it comes to Dior, the company has emphatically adopted a show-must-go-on mantra as they work through what seems likely to be merely a blip on the venerable course of the legendary couturier. On the other hand, how Galliano's eponymous collection—also controlled by Dior—will play out poses a serious question. While the unveiling of the fall 2011 line will keep its slated time slot on Sunday, the format and venue have been downsized to a small presentation (as opposed to a runway show) at a hotel, without the designer present.
As the industry waits with bated breath for what's to come of Galliano's trial and, on a larger scale, the changing of the guard at Dior amongst the power pawns of the LVMH roster—rumors are favoring Givenchy up-and-comer Riccardo Tisci, while our favorite Irish bookie Paddy Power has the highest odds on YSL's Stefano Pilati—these shows couldn't be timed more closely to the drama.