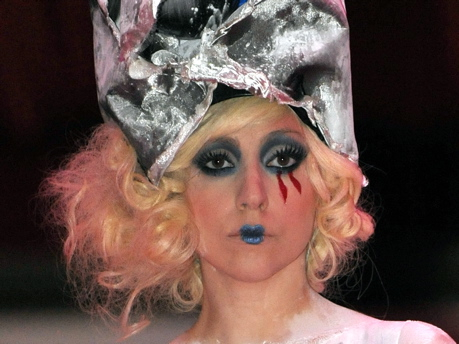 Someday the fickle fashion set will tire of Lady Gaga's sunglasses and couture accoutrements, but for now, her Ladyship is enjoying a long sojourn in the sun. This month, the eccentric pop star is curating a collection of iconic pieces for Not Just a Label (NJAL), a London-based creative platform devoted to launching young designers into successful fashion careers.
Gaga joins the ranks of Paris Hilton, Taylor Swift, Beyonce, Pixie Geldorf and Alice Dellal for NJAL's "Celebrity Christmas," a star-studded online shopping event that asks each celeb participant for pieces demonstrating their support for new fashion talent. Gaga devotees and fashion fiends alike can peruse handpicked items by jewelry designer AND_i, avant garde menswear by Orschelread, or techie finds from Ascione.
We're heartbroken that none of Miss Gaga's outrageous (if not terrifying) shoe collection made it to the website, but perhaps we'll console ourselves with an industrial metal arm brace from Andreas Eberharter. Granted, this pop-up isn't the place to find a perfect gift for Aunt Patty, but we wonder: are you brave enough to sport Orschelread's two-foot padded hip trousers yourself? You'd be guaranteed a few dirty looks on the subway, but what's a nasty scowl or two in the pursuit of "fierce"?