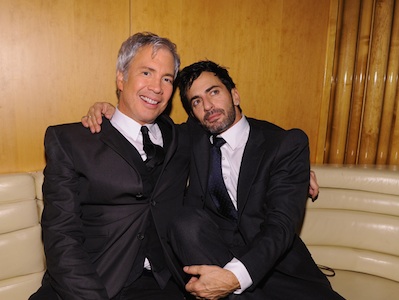 Interns aren't the only ones apparently upset about Marc Jacobs International president Robert Duffy's behavior in the workplace. The company's former chief operating officer Patrice Lataillade is taking his complaints beyond a Twitter rant, and filing a state and federal lawsuit accusing Duffy of "sexual discrimination and retaliation," WWD reports.
The Post quoted an excerpt from the suit which detailed the "hostile work environment" that Lataillade claims Duffy created:
"Examples of Duffy's conduct which created a hostile work environment include his displaying gay pornography in the office and requiring employees to look at it; his production and dissemination of a book which includes photos of MJI staff in sexual positions or nude; [and] his requirement that an MJI store employee perform a pole dance for him," the suit says.
Lataillade was filed in September, and now claims that that several attempts to rectfiy the situation with parent company LVMH were ignored, and that his termination actually came a week after an email was sent to top executives and general counsel.
An LVMH spokesperson released the following statement:
"The allegations contained in the complaint are false. Patrice Lataillade was terminated as chief financial officer and chief operating officer of MJI for serious matters unrelated to the allegations contained in the complaint. MJI, LVMH Inc. and Robert Duffy will vigorously defend the case in court."
Marc Jacobs himself is not named in the suit, which seeks lost wages, punitive damages and, of course, lawyers fees. Given LVMH's track record of swift justice for offending employees (see: Galliano), it will be interesting to see how this one plays out. Duffy is extremely popular and has been a successful partner to Marc Jacobs throughout its growth, so it seems unlikely that he would easily lose his supporters at LVMH.