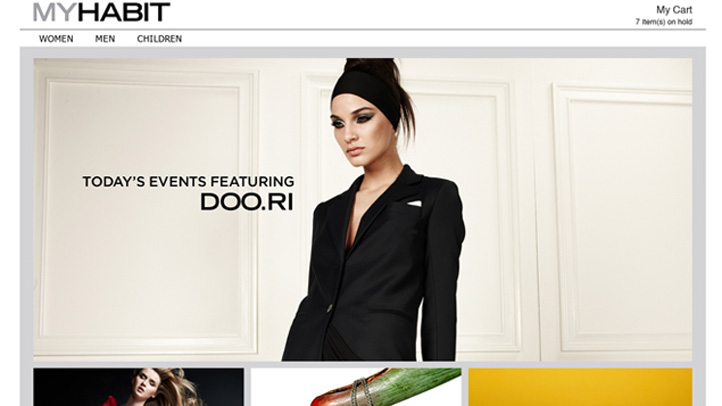 Gilt Groupe may have been the first to bring the flash sample sale experience online in the U.S. in 2007, but competition in this segment of e-commerce is heating up as of late. Amazon rolled out its version, MyHabit, this month, offering up to 60 percent off goods. Meanwhile Vente Privée, the French flash sale site which launched in 2001, is primed to enter the U.S. market as early as the fall, thanks to a partnership with American Express. Other rivals come in the form of deal sites like Groupon, Ru La La and Hautelook.
All of this competition could ultimately be a boon for up-and-coming designers with a less of a brand name, and even less of an e-commerce presence: There are over 80 private sale sites in the U.S. today, which leaves a lot of e-commerce space to fill. More space means more opportunities for fashion's rising stars.
Ru La La, for instance, already features a boutique on its site dedicated to "Rising Stars." Gilt Groupe collaborated with the CFDA nominees last year -- including Jason Wu and Richard Chai -- on a collection of limited edition pieces, and regularly features up-and-comers including Christian Cota and Kimberly Ovitz. MyHabit has even partnered with the CFDA Incubator for their launch, including designers Bibhu Mohapatra and Alice Ritter. The site also featured designer Doo-Ri Chung, who has a limited e-commerce distribution, during the initial days of its launch. Expect the presence of upstarts in this space to continue to grow as these e-tailers battle it out to build their inventory.
The exposure that designers get selling online can often be a major boost. Vente Privée founder Jacques-Antoine Granjon says, "We came up with a system that creates value for them. 40 percent of the people who buy from Vente Privée end up visiting the brand's stores. We create marketing reports that give them intelligence."
And as the competition to differentiate heats up among discount e-tailers, designers are getting other opportunities. Gilt Groupe's relatively new Gilt City vertical, for instance, offers experiential offerings including the chance to shop side by side with designers like Cynthia Rowley and Steven Alan. Sarah Sheehan, Head Curator, Gilt City New York says women love these special "one-of-a-kind experiences." Designers, of course, are increasingly welcoming opportunities to connect with their core customer base in person.
Ironically, as designers find exposure via flash sale sites, some are finding that it is an offering that they can provide themselves (while reaping all of the profits). Alexander Wang, who in the past has held successful sales on Gilt Groupe, just held his first flash sale on AlexanderWang.com this month. Shoppers had to register, and had 72-hours to shop a selection at 50 percent off.