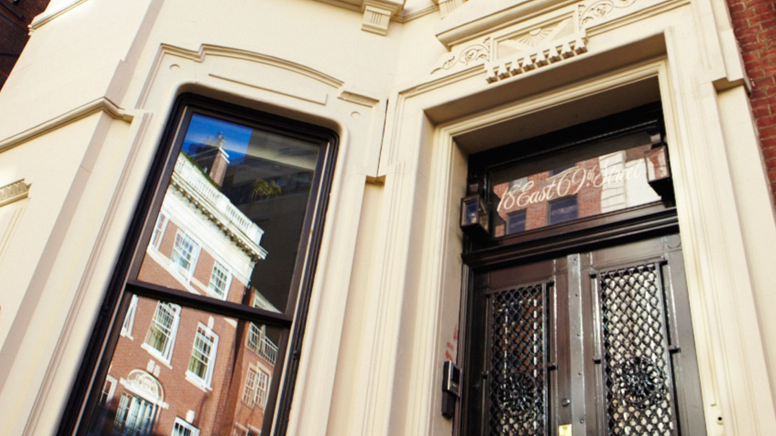 When 26-year-old Claire Distenfeld -- daughter of Luxury Accessories International's Fred Distenfeld -- announced she would be opening the doors to a new boutique in a landmark townhouse on the Upper East Side, there were certainly some raised eyebrows. After all, Ms. Distenfeld was 26, and was previously more of an art gallery type. By the time editors and isniders started getting glimpses of the new space, Fivestory, which officially opened last week, they were quickly convinced.
With the five-story shop (thus the name), Distenfeld sought to rejuvenate the luxury shopping experience with a super-curated collection of top designer merchandise and an unusually luxurious environment (designed in partnership with Ryan Korban). We caught up with Distenfeld to hear how she hatched the Fivestory concept, and which pieces she's loving for spring.
When it came to determining a concept for the new space, where did you look for inspiration?
"I really wanted to make a landmark retail store that was all about New York. And for me the Upper East Side has this magic and timeless quality that is really unique. Every street and building has a history and a story, and storytelling was a big part of Fivestory, opposed to the name solely being about the building itself. A lot of the inspiration is from this area -- the decadence of the Frick, the geometry of the Mark Hotel design, the iconic New York museums. It was this marriage of Old World and New World, of grandeur and of edge.
"
Did you always think fashion retail would be your career?
"Never! I was a devout art-aholic. I had worked in art for several years from Sotheby's to the New Museum to a grungy gallery in Chinatown, but what I realized was that art was a passion and a hobby and was not something I could quantify and have as my livelihood. So after a bit of internal reflection I realized my other joy in life, aesthetics, was my true public calling. And New York did not really offer a haven for an aesthetic experience."
What was it like working with interior Ryan Korban? Did you always see eye-to-eye?
"Before we even put anything to paper, Ryan and I would meet and talk and I would show him amazing things that I have always loved, whether that was a fabric a design or a tuxedo. He really listened to me and created a work and an environment that translated everything I had dreamt for into reality.
"
What was the biggest challenge you faced getting the store ready for opening?
"Besides the physical work of gutting a landmark townhouse and designing a store with such customization and detail, I would say it was the convincing of people and brands that this fantasy thought up by a 24-year-old would actually be realized."
How did you come up with the concept for the "shoe garden"?
"The character of the building was really special and the sky lit area in the back really needed to be highlighted. When Ryan and I were talking about shoes we realized that shoes needed a intimate and special area devoted to it. Once we decided that that area was perfect for it we really ran w the open air feeling and decided to be a little witty with it.
"
What are some of your favorite pieces on the racks right now?
"All the Lyn Devon dresses with the shorts under them. Risto feathered pants and crop top, and all the men's Sacai sweaters and Visvim shirts!"
What has the response been like so far?
"Good! I think people really appreciate the curation of the product and the uniqueness of the design. I also love to hear that while people find it beautiful, they also say it's very approachable and comfortable. At the end of the day I don't only need people to come shop, I'd love people to just come and be inspired and hang out!"