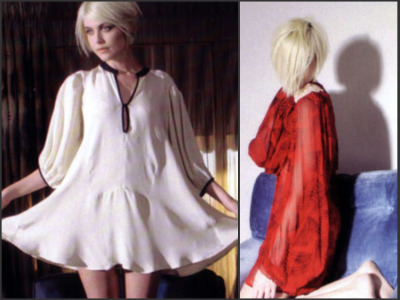 Nicole Richie may have had a less-than-savory trip to fame, but there's no denying the girl's got some chic style, as evidenced by her second collection for Winter Kate.
With undertones of her signature bohemian steeze, the fall collection shows off Richie's knack for infusing polish into breezy silhouettes -- crisp black piping on an oversized white trapeze-esque shirtdress -- and creating drama that seems laid back, like intricate peacock feathers on an edgy tailored jacket, for example.
Although ubiquitous, all celebrity fashion lines are certainly not created equal. The spectrum ranges from a TM name stamped on a collection for a big-box chain (usually infused with unoriginal design and a trying-to-please-everyone aesthetic) all the way up to truly stellar designs like The Row by Mary-Kate and Ashley Olsen. After two pretty impressive collections, we're starting to believe Ms. Richie belongs in the latter category.