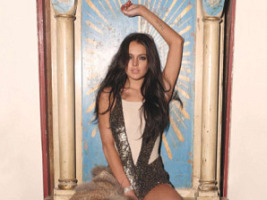 Late last year, Lindsay Lohan revealed that her 6126 leggings line would soon expand to include dresses, jackets, and more. The LA Times got a first preview of the "day to night" spring collection, from gold leather vests to jumpers.
You can say a lot of things about LiLo but you can't say she's a quitter -- on the heels of her monstrously criticized stint with Ungaro she's gone ahead with a new collection of what started as leggings but now spans cardigans, leotards and more (though, of course, the focus still seems to rest squarely on the leggings.)
According to her publicist. the line, strongly influenced by Lohan's hands-on involvement, will sell at Nordstrom, Neimans and Ron Herman. The price range starts at $60 and goes up to a very curious $1,000. While we'll admit we've never been huge fans of leggings (or lace leggings, at that), we'll admit we're at least happy to see Lohan making very Lohan-ish wear, instead of hopping the pond and taking the helm at more established labels.