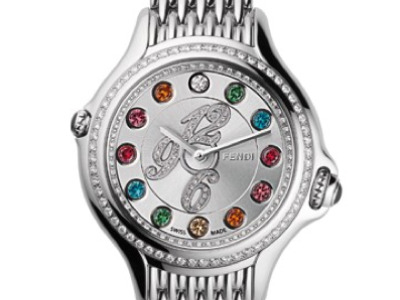 Fendi's first foray into fine jewelry comes in the form of the patented-formula Crazy Carats watch, bowing in October.
The pieces have a customizable rotation of jewels. A diamond perpetually resides at the 12-hand, but the wearer can spin around the other gems using a tiny side dial, to set them in three different ways. Beyond its bedazzled face, the style is classic, constructed from stainless steel with a basket-weave band and the option of a black or white face, with our without a diamond border.
The Crazy Carats watch will retail between $2,400-$15,000 and is the first Fendi watch to be considered fine jewelry (past models were ceramic). The folks at the fashion house told WWD that the watch represents just a hint of what they'd like to create in the fine jewelry category - so be on the lookout for more Fendi gems.