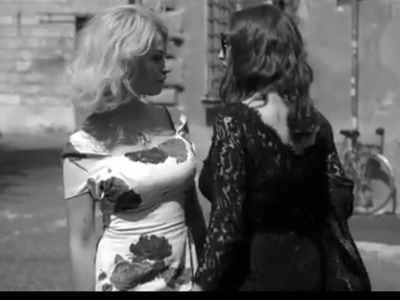 Fashion designers have been turning to film to convey their latest moods and collections, leaving us entranced. Director Jaime Rubiano created a short to showcase Rodarte's spring 2010 collection with the idea of an "editorial in motion," as part of this new movement in fashion—no pun intended.
Rubiano's high-concept art film puts on display the diaphanous Rodarte creations amidst a languid storm of Radium, a black, radioactive metal that bleaches white with oxygen. Watch it here.
Proenza Schouler's fall 2010 collection will come to life in a short film debuting in early September, directed by Kids legend Harmony Korine. Set in Nashville, a clan of rebellious girls goes about growing up in the periphery of adjustment in 8mm. See the stills here.
For his fall 2010 campaign, Alexander Wang set things in motion, throwing a gorgeous Abbey Lee Kershaw into a dank room to engage in some hypnotic writhing set to the tones of an edgy-trance track by The XX. Watch it here. (Note: There is toplessness, so likely not suitable for work).
Zoe Cassevetes composed a dream-sequence short entitled "Hide and Seek," spanning London's new Louis Vuitton boutique on Bond Street and Hampstead Heath. The film's girl-sirens flit between clothing racks and red telephone booths under unusually sunny skies. Watch it here.
Dolce & Gabbana transport us into the Rome of our wildest imagination, with the quick film, "Quando, Quando, Quando" which follows the knockout Monica Bellucci through the city's narrow lanes by dapper gentlemen with lust in their eyes. Watch it here.