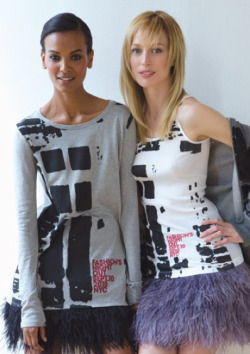 Fashion's Night Out will usher in its second event September 10 with a limited-edition collection of T-shirts available to retailers through April 30, according to WWD.
The printed tops come in white and gray varieties of tanks and long- and short-sleeved tees for women, along with short-sleeve for men, plus a unisex hoodie with the FNO logo and a new skyline graphic. The suggested retail prices, thankfully, hover in the quite reasonable $20-$60 range, and a whopping 40 percent of the proceeds from the line will benefit the NYC AIDS Fund.
While stores can stock the shirts without participating in Fashion's Night Out festivities, more than 800 New York city-wide stores did last year to great success, with even more anticipated to join this year.