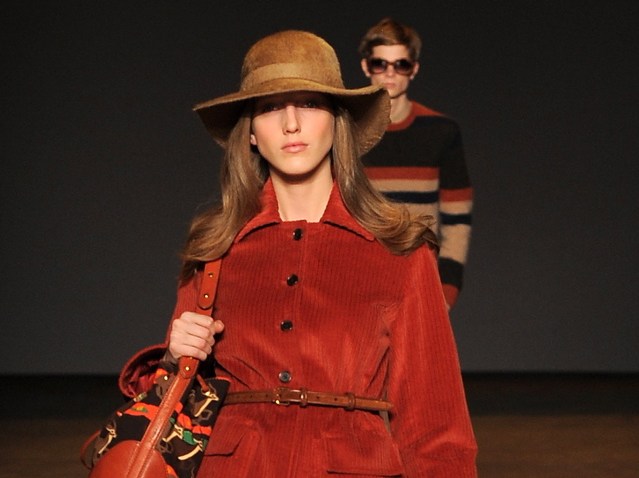 In the wake of an eleventh-hour hurricane and persistent economic turmoil, this season's Fashion Week calendar has been reshuffled and revised like never before.
Marc Jacobs was the first—and most formidable—to change his time slot, postponing the runway show for his main collection from September 13th to the 15th, to close out Fashion Week. Partner and company president Robert Duffy blamed the delay on Hurricane Irene, claiming to WWD the staff lost precious time preparing the collection. However, with rumors of Jacobs' imminent succession to Dior reaching fever pitch, the last-minute change put industry watchers on high alert.
If Jacobs can do it, then so can Olivier Theyskens. Theory announced it would move the Theyskens show, also originally scheduled for Monday, September 12, to the next afternoon after being held up by the hurricane.
Meanwhile, both Catherine Malandrino and Isaac Mizrahi are skipping this season altogether, while Vena Cava is scaling back to a closed "friends and family" showing for their spring line.
A Malandrino rep told Page Six that the company "is in a time of transition. We're refocusing, and we'll be back in February." Mizrahi, though he shared the news himself in a video on the brand's blog, was a bit more cryptic in explaining why there would be no show for the spring collection, half-joking that it felt "modern" to them. Vena Cava's camp didn't offer up a hint of insight into their motivation to go private.
The calendar is also missing the GreenShows this September — a note to a fan on the official Facebook page indicates that they will not be holding their semi-annual sustainable-fashion runway shows, but to "stay tuned" for an announcement on their "plans to launch a retail distribution platform for the sustainable fashion movement."

That seems to be the latest, with less than a week until official kick-off. We're still marking our datebooks in pencil.