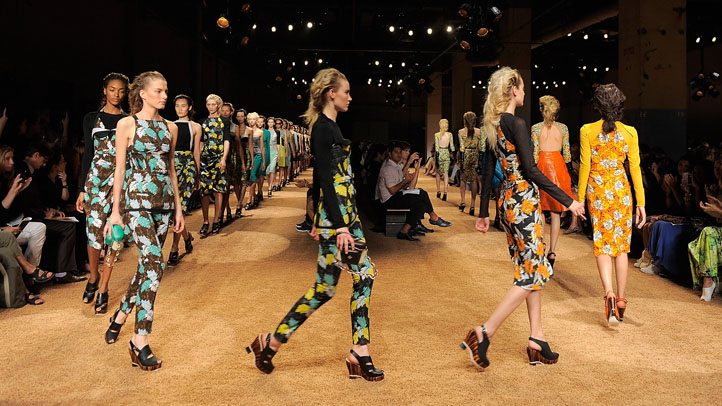 After weeks of scheduling squabbling between the cities that play host to a series of seasonal fashion weeks, Milan's latest offer accepts a recent proposal by the CFDA, with a few caveats.
Since October, the organizers of the various fashion weeks in New York, London, Paris, and Milan have been in the midst of a continuing debate over the proposed dates for the shows in September 2012 and beyond. Under threat from Milan, who proposed moving its dates in direct conflict with New York and London, New York offered to move its dates back to accommodate the Italians. Now, it seems, the Milan Fashion Week organizers have agreed, with some conditions. Here is the complete statement, via The Wall Street Journal's "On the Runway":
The Board of Directors of Camera Nazionale della Moda Italiana met today and, with regard to the issue concerning the future dates of our fashion weeks' schedules, it unanimously deliberated to:

Confirm the previous schedule for September 2012 with New York fashion week starting on Thursday 6 of September, followed by London, Milan and Paris Agree for the next two years ( September 2013 and September 2014) with the proposal of Diane Von Furstenberg, President of Council of Fashion Designers of America, to start New York Fashion Week on the second Thursday of September, that is to say on September 12th in 2013 and on September 11th in 2014.

This, at the following conditions:

2.a New York's last day should be on September 18th in 2013 and on September 17th in 2014 in order to allow London an additional day for the presentation of the menswear collections.

2.b. Paris will accept this structure and follow Milan as always, starting on Wednesday 2nd of October in 2013 and on Wednesday 1st in 2014

In case those conditions didn't happen, the above mentioned solution could not be applied.

Camera Nazionale della Moda Italiana is looking forward to receiving a feedback from New York, London and Paris.
Considering how jam-packed the New York Fashion Week calendar already is, it's difficult to imagine the organizers finding a way to consolidate the shows into seven days instead of eight. In recent seasons, Wednesday has become the unofficial first day of Fashion Week, with many indie designers choosing to show before the maelstrom of the week officially kicks off. Should the CFDA accept the new proposal, we're willing to bet that Wednesday lineup gets a lot more packed going forward.