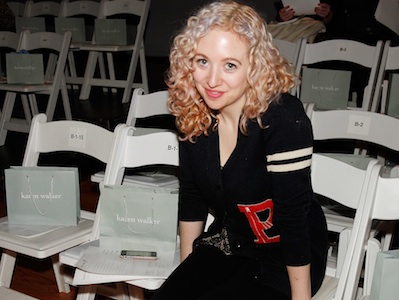 Nylon Magazine Digital Director Faran Kretcil gives us the best and worst of her Saturday, from catching The Like playing live to her favorite new model.

Sum up your day in one word:
Bedhead.

What was the best thing you saw?
I think I saw a star being born. This model, Charlotte Free, has already gotten some attention for her hot-pink hair, but backstage at Charlotte Ronson it seemed like more than that. She had this incredible face, like a pixie that could stop time, and wherever she went, people just froze and watched her. She's tiny too -- just 5'7, like Kate Moss -- and that makes her really unique. I think she's going to get really big in the next year, like Agyness Deyn big. She's just got that magnetism that's really cool. And obviously, pink is my favorite color.
A close second was The Like playing at Rachel Antonoff's fake school dance. I'm a sucker for a good base line and some glitter.

What shoes did you wear today?
I wore my beat-up white Converse Chuck Taylors in the morning (to Libertine and Rachel Antonoff), then changed into a pair of Topshop high heeled clogs for Charlotte Ronson and G-Star, and I'm putting on some Miu Miu wedges for the United Bamboo and Dossier party at the Jane.

What was the most challenging commute between shows?
Getting from my bed to Libertine at 10 am was nearly impossible; I literally skidded into that show. Finding a cab to go from Lincoln Center to Milk Studios for Suno was hard, too! I had to show a little leg to get one to stop!

What item in your bag did you use the most today / were the happiest you had with you?
I think I pay more attention to my iPhone than I do to the boy I'm dating. I definitely have separation anxiety from it a lot more. This is probably a problem, right?

Your top "Wow, I work in fashion" moment of the day:
Heading to Band of Outsiders, my entire cab had a discussion about "Lindsey," and everyone knew we meant Wixson, not Lohan.