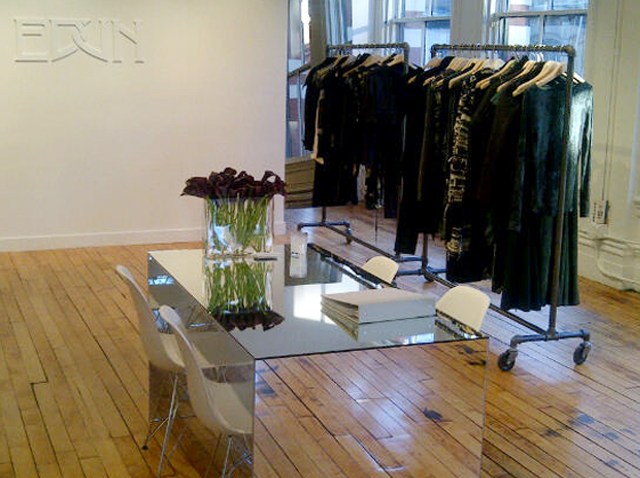 Worldwide Fashion Weeks are winding down, but for many New York designers, the time to share their Fall 2011 collections with editors has only just begun.
Last week when we ran into Cyd Mullen, who works with jewelry designer Pamela Love, she was on her way to Vogue for a "re-see." This is not, as it sounds, a chocolate-and-peanut butter treat, but rather an opportunity for editors to have a closer look at the collections they might feature in their magazines. In Pamela Love's case, Mullen and her assistant – who said traversing the city with heavy metal jewelry made her feel like a knife salesman in designer clothes – went to Condé Nast, laid the jewelry in trays, and walked the editors through collection's design details and inspiration. It seems like a lot of work after one has gone to the trouble and expense, as Love did, to make a formal presentation at Milk Studios.
But Bridget Russo said that for clothing brands like her employer, Edun, the "re-see" is well worth the trouble.
"There's so much detail in the clothes," said Russo. "You want the editor to be able to take time and see the clothing up close and personal."
Edun staged a traditional runway show this season, which means that editors might have only gotten about 30 seconds to take in each look as models marched the catwalk – hardly enough time to process all the prints, textures, and materials like those pictured here, much less consider where they will fit into a magazine.
Beyond that, said Russo, the collection on the runway is only an edited version of what will be available in Fall 2011 – like a teaser. A re-see at Edun's showroom (pictured above) gives editors a chance to see the collection in its entirety, after they've taken in all the fashion shows for the season. It's also an opportunity for Russo to learn what magazines' photo shoots will feature for Fall – whether heavy-duty parkas, feathered embellishments, or primary pops of color, for example.
Re-See (n): It's a second look, with the benefit of a little more time, perspective, and presumably, rest, than one might have during Fashion Week.