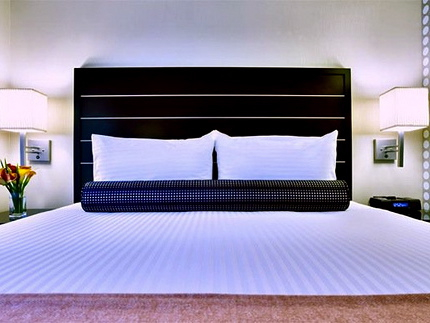 Last week, Wyndham Hotels unveiled its latest and possibly greatest hospitality gimmick with "Fashion 26," a Chelsea hotel that caters directly to models, industry big wigs, and shop-a-holics. With the tag line, "where hospitality is fashionable," Fashion 26 boasts cupcakes,"fashion insider" packages (including nail polish and Bloomie's coupons), and heavy discounts for its desired clientele -- specifically, six-foot models.
With no limit on the number of bodies to a room, Urban Daddy has projected a full-blown fashionista fantasy on the project: "[Models] parading through the lobby. Bikini-clad, sharing an elevator to the rooftop sunbathing deck. Having pillow fights in the room across the hall."
We're betting Fashion 26 will likely fail in its plan to cater to actual industry professionals, likely finding more success with wannabe insiders and fans of the fashion set over the fashion set itself. That said, we must admit that free in-room movies with cupcakes, magazines, and breakfast for two the next morning sounds pretty good.