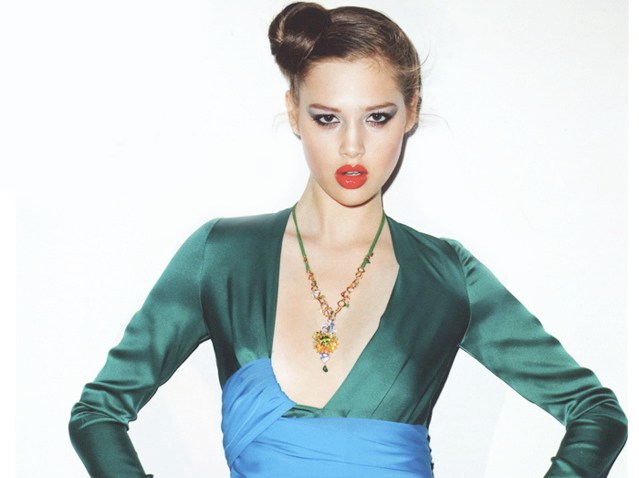 At just 19 years old, Montreal-born beauty Anais Poullot is already an industry veteran, with over five years of experience behind the camera and on the runway. A full-lipped pout and big doe eyes make Anais an easy editorial darling, but her expert catwalk strut brought her all the way to Chanel's resort runway this year. Her steely gave and shiny brown locks ensure that we'll be seeing more of Anais in glossy magazines this fall -- after all, she mentioned a special meeting with Anna Wintour. Whatever the future holds for Miss Poullot, it's sure be big.

How did you get into the modeling industry? Were you scouted?
At 14 years old, I was the tallest girl in my class! People would stop my Mom on the street and tell her I should consider modeling so we decided send a few photos to a modeling agency in Montreal. They signed me right away!

Had you ever considered modeling before?
Not at all! I was more into sports growing up. It never occurred to me this kind of career existed!

What was it like walking your first ever runway?
I walked for the first time for a local designer in Montreal. It was a very small show with an even smaller runway! The entire time I was so stressed that I would fall but I survived!

Tell us about the weirdest shoot you ever did.
When I was 15, a photographer directed me to walk in the street looking desperate and sad holding a fake gun. The idea was that my parents were killed by the mafia and I was an orphan with no reason to live! SO weird!
Do you have any favorite new designers we should know about?
I really like Current/Elliott! I just bought a new denim dress from them and wore it to meet with
Anna Wintour
.

What's your relaxation routine post-Fashion Week?
Sleep! On average 13 hours a night. And of course Chinese Tui-Na massage.

If you weren't a model, you'd probably be:
An interior designer.

The best beauty secret you've learned since you started modeling.
To always remove my makeup before going to bed.

Your favorite junk food:
French Fries.

The song you're playing on repeat this week.
James Blake, "Limit to Your Love."

This summer, you're most excited to:
Spend a week sunbathing in Croatia with my friends.