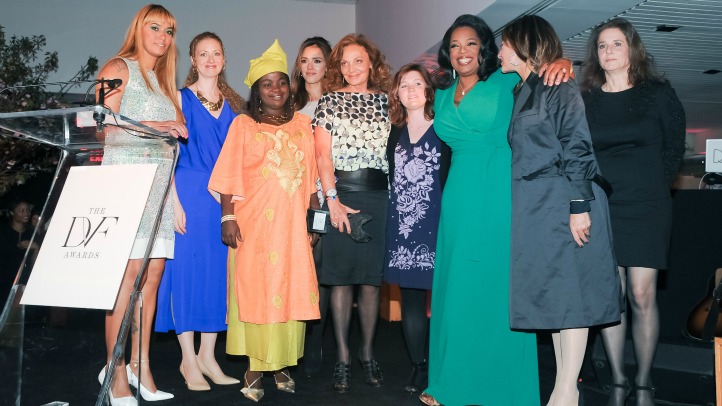 Designer and CFDA President Diane von Furstenberg started the DVF Awards three years ago to disperse money to women each year have dedicated themselves to supporting women's causes. Honorees at this year's awards, held at the United Nations, included Oprah Winfrey, kidnapping and abuse survivor Jaycee Lee Dugard (who started the JAYC Foundation), artist Panmela Castro (who battles against domestic violence), Chouchou Namegabe (who fights for women's issues in her native Congo), and Layli Miller-Muro (who founded the Tahirih Justice Center, which protects women from human rights abuses).
Diane von Furstenberg told us of the inspiration for the awards, "I look at other women who are so strong and I'm proud to be a woman and to be able to honor women." The designer insisted that "when you put women together, there is always an amazing energy that comes out."
As for the obstacles that women still face around the world, Von Furstenberg said, "You think you're going ahead and you think you're making progress, and in some countries it's still just terrible [for women]."
Through the DVF Awards, honorees receive $50,000 in support of the organization they have created, work with assistance through The Diller-von Furstenberg Family Foundation to further their work.
Newsweek/Daily Beast Editor-in-Chief Tina Brown introduced Von Furstenberg to the audience by saying that her longtime friend was a true success story: "She's truly mastered the idea of having it all, and she shares it exuberantly and generously."
Oprah Winfrey walked away with the Lifetime Achievement Award. "She is the most formidable person I have ever met in my life," Von Furstenberg said of the legendary host at the event. "What is extraordinary about Oprah is that she has done so much, and yet she is still a little girl. She is still very pure and you can make her cry and laugh so quickly."
Von Furstenberg spoke of the commonality between the women being honored, quoting Ancient Greek author Thucydides: "The secret of happiness is freedom. And the secret of freedom is courage."
Von Furstenberg, who rose to acclaim as a fashion designer after she introduced the now famous wrap-dress in 1972 with the slogan "Feel like a woman, wear a dress!" has made empowering women central to the messaging of her namesake brand. In 2009, she wrote DC Comics' Be The Wonder Woman You Can Be: The Adventures of Diva, Viva and Fifa (with characters dressed head to toe in DVF of course). The proceeds went to women's charity Vital Voices. She also releases a yearly compilation album, "Proud to be a Woman," benefiting the charity. And this year, International Women's Day events were held at Diane von Furstenberg stores around the country, with part of the proceeds going to various women's charities.