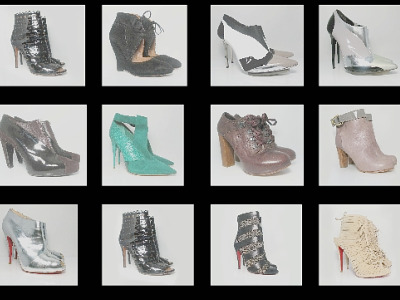 The sheer stats of the Albright Fashion Library covered today in WWD are enough to make anyone swoon: 7,000-square-foot loft stocked with as many pairs of shoes, 10,000 evening gowns and 15,000 dresses for rent from the likes of Dior, Alaia, Valentino, Prada, Gucci, YSL, Marchesa, Alexander Wang and so, so many more. Salivating yet?
Mother-daughter team Irene and Marina Albright sit atop a momentous collection of high fashion, the likes of which really have never seen. Having amassed the world's most spectacular closet culled from a mix mom Irene's stylist years in the '80s and daughter Marina's excellent taste, the pair have cultivated a successful and respected rental business among Hollywood and editorial stylists, film costume designers, celebrities, and models. Patricia Field put Carrie in Albright pieces for both Sex and the City movies, and Anne Hathaway's Gaultier gown in The Devil Wears Prada was also snapped up at the Albright Library.
Organized by color and category of goods mostly within the last five years, as well as important archive selections, visitors can pull a specific piece or coordinate a head-to-toe ensemble to borrow for a fee, creating a one-stop-shopping experience for professionals in the fashion biz and beyond. The place is seriously catalogued like a library -- their website has a search feature (looks like at this point, just for shoes) that allows one to pinpoint what they want as specifically as they want. If fashion is our number one fetish, than organization is second, so this really hits the spot.
The Albrights' extremely fortunate position to buy up beautiful things for their collection -- about 1,200 pieces a year -- has proven helpful during the recession, as even the biggest and brightest opt to save money on looks they wear only once or twice. Merch is turned over and older items are actually sent to the Albrights' store, Mina Gallery, down the street -- which we're sure must make for some incredible browsing as well.
The Albright Fashion Library is located at 62 Cooper Square