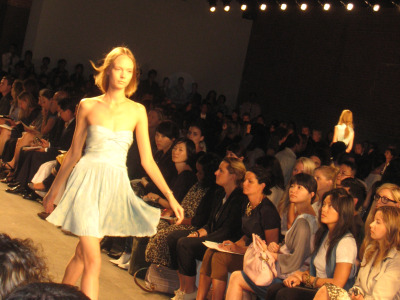 Having parlayed our standing-room status into a mint spot at the front of the camera pit, we were right in the thick of it when the audio at Eyebeam cut out for a good two models-worth (poor girls, we never realized how tough it must be to keep up a stride in relative silence). But never fear, the cut-ups behind the camera immediately started whistling their own chorus to fill the void and it was all very cute.
Despite the blip, the show was a triumph of good old Doo.Ri style: smart construction and separates and sundresses as edgy as a wearable piece can get. We loved the bright floral with a clear sequin overlay and the cream suits. Each designer seems to have their one color outside the popular white and khakis dominating the lines, and Doo.Ri's was safe and sunny yellow.
We'd venture to say this is a softly sexy look this season, and the taupe suede ankle booties only enhanced the appeal.