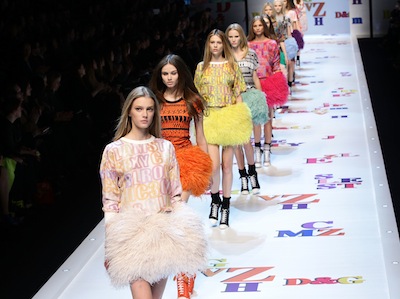 Shortly after the Falll 2011 collection went down the runway in Milan, WWD learned from a slew of international (and, mostly, anonymous) retailers that designers Domenico Dolce and Stefano Gabbana may have plans to incorporate the stand-alone contemporary D&G line into the signature Dolce & Gabbana collection.
Though reps from the company have not commented on the speculation, the report -- which includes sources from Italy to Russa -- is that the Spring 2012 collection will mark the last for D&G. As of Fall 2012, Dolce & Gabbana will encompass the brand's entire repertoire, though it's unclear exactly how that will play out among licensed categories like fragrance, WWD reports.
Those interviewed in the piece had mixed feelings on the potential restructuring, with those skeptical of the move pointing to D&G's profitability—estimates place its yearly profits upwards of $500 million—and market appeal in Asian countries and Russia, where D&G "is more commercial and less expensive" than Dolce & Gabbana, according to one retailer. At the same time, retailers believe the repositioning of D&G to higher prices in 2009 blurred the lines enough to make the consolidation a sage move, noting the "two brands sort of cannibalized each other."
It's still anybody's guess as to what will happen with D&G—on the one hand, the company stopped production of the line in Japan in 2010, but opened two new boutiques in Shanghai last spring. We'll have to wait for Domenico and Stefano to say the word.