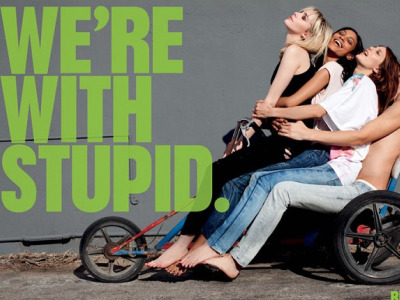 In what might be a potentially stupid move, Diesel is adding a "Faces of Stupid" contest as part of its "Be Stupid" campaign. Starting next week, people go into the store, slap a Be Stupid sticker on their forehead and reveal the dumbest thing they've ever done for the Diesel website.
Shoppers have four weeks to absolve themselves of their stupidity in one of Diesel's 31 stores nationwide and entering themselves for a chance to win some pretty hot prizes with the web video of their confessions.
Luckily, instead of getting, say, a slap upside the head, weekly winners of the Faces of Stupid contest will score an Apple iPad, Polaroid Pogo and a Flip video camera. Then, those weekly winners are up to win the grand prize (and the title of most stupidest?), their choice of a trip to swim with sharks off South Africa, a motorcycle trek across Europe, a zero-gravity flight in Las Vegas, a train ride through Asia or recording their own record in Jamaica.