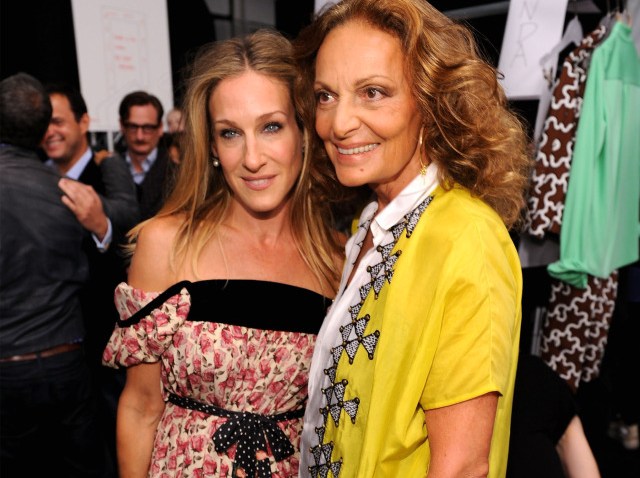 Diane von Furstenberg's spring collection may have had a "goddess" theme, but the graphic prints and languid separates seemed more to telegraph a jet-set coastal resort. Granted, there were a few goddess-y moments (namely, a long white dress paired with a strong gold belt), but for the most part, the looks were leisurely and eye-catching.
Sarah Jessica Parker herself was on hand to see the big spring debut (the starlet snuck backstage for a visit with the designer first) of DvF's first collaboration with her new creative director, Yvan Mispelaere. The result was certainly a lot to look at. Fans of graphic prints will have much to feast upon, from printed silk pants to a graphic sheath dress with ocean waves write large across the front. There were some more subdued separates, as well, in the form of slim-cut pants and crisp blazers. For those who have watched spring show after show filled with whites and neutrals, the sudden rush of color was certainly welcome -- from baby blues to neon yellows and vivid purples, all set against the models' hot pink lips.
We found oursleves actually most entranced by the accessories in the collection, from round-eye sunglasses to surprisingly chic square waist-bags (read: leather fannypacks!). Diane von Furstenberg's collections have always been masterfully retail-friendly, and this one is clearly no exception.