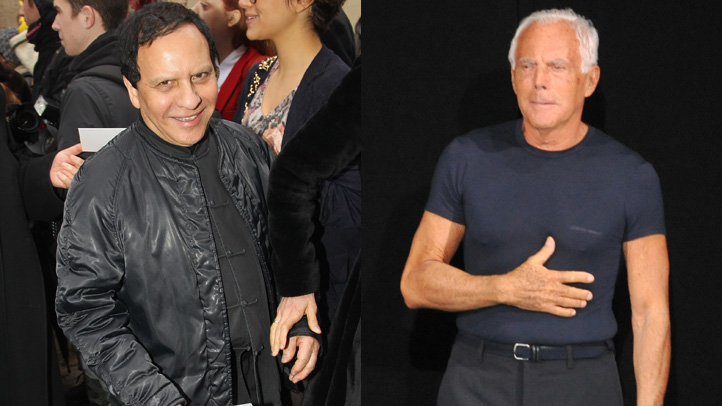 Typically, fashion folks are loathe to be honest about their fellow industry insiders, but this week proved to be an exception, with designers Giorgio Armani and Azzedine Alaia letting loose.
While Alaia has always been a bit more candid than others -- he famously pulled his dresses from the Met's "Model as Muse" gala in 2009 because his work was not included in the Costume Institute exhibit, for example -- his latest interview with Virgine included some choice words about an editor who is often regarded as nearly untouchable in the industry, Anna Wintour:
I said it before. She runs the business (Vogue) very well, but not the fashion part. When I see how she is dressed, I don't believe in her tastes one second. I can say it loudly! She hasn't photographed my work in years even if I am a best seller in the U.S. and I have 140 square meters at Barneys. American women love me; I don't need her support at all. Anna Wintour doesn't deal with pictures; she is just doing PR and business, and she scares everybody. But when she sees me, she is the scared one. [Laughs.] Other people think like me, but don't say it because they are afraid that Vogue won't photograph them. Anyway, who will remember Anna Wintour in the history of fashion? No one.
Alaia doesn't stop there, either. He says Karl Lagerfeld is "too much caricature" and "never touched a pair of scissors in his life" (though he does hedge that that "doesn't mean he's not great"), and also suggests that Galliano's tragic fall was a direct result of the pressures of the fashion industry itself.
Elsewhere this week, Giorgio Armani railed against labels like Prada and Dolce & Gabbana and men's fashion week in Milan, saying that their styles "made men look ridiculous," according to WWD:
One of the reasons, he quipped, is that "fashion today is in the hands of the banks and of the stock market and not of their owners," stressing how he doesn't need to do an IPO because his company is independent and doesn't have debts, and that his clothes make men look more handsome and elegant.
The "IPO" remark was clearly a not-so-subtle dig at Prada, which has raised $2.14 billion for its IPO.
While we can't necessarily commend these designers for being so candid, we can at least commend them for making the most of summer's slower news cycle.