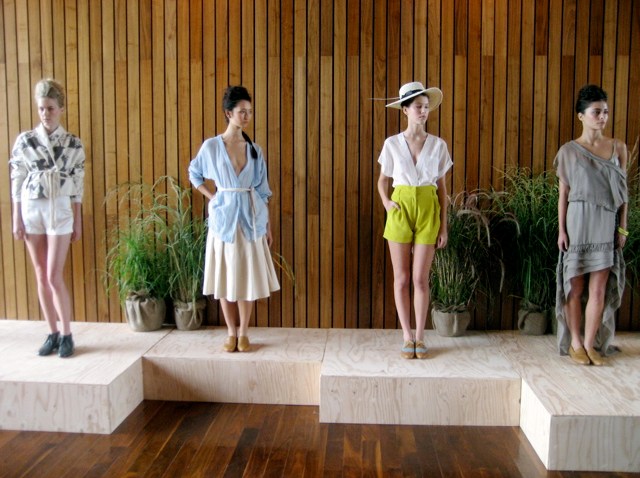 Designer Suzanne Rae's collection this season is steeped in the bright-and-breezy vibe of summer, with romantic, free-flowing ruffled sundresses in vibrant hues and prints, partnered with crisp separates.
When it comes to her own M.O. this time of year, she's contemplating a trip to Burning Man, eating seafood, and sunbathing on the roof to her namesake anthem by Leonard Cohen.
Summer Getaway:
"I went to Miami for my birthday, and I really hope to go to Burning Man in late August—if the collection is done!"
Warm-Weather Activities:
"Riding bikes, going to the beach, rooftop sun-bathing and day-time partying."
Beat-the-Heat Solution:
"Relaxing and just taking it slow indoors, using as little energy (kinetic, electrical, all forms!) as possible."
Fondest Childhood Summer Memory:
"Swimming all day in my parents' backyard with BBQ and burgers."
Summer Uniform:
"This kaftan from the Phillippines that used to be my mom's, it's very airy."
Summer Anthem:
"'Suzanne' by Leonard Cohen. I was named after that song, it's a sort of self-prophesizing reality. But for this summer, it's 'Go Outside' by the Cults."
Summer Treat:
"Fresh seafood by the water."
Summer Style Icon:
"Hippies!"
Ultimate NYC Vacation-for-a-Day:
"Going to Sheepshead Bay, and going sailing to Rockaway Beach on my friend's sailboat."