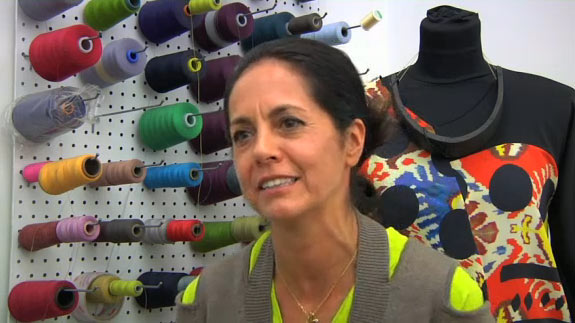 Chilean fashion designer Maria Cornejo exudes laid-back summer style all year round, with her signature asymmetrical tunic dresses, twisted tops and bold, colorful prints.
That Cornejo's summer style consists of anything she can "just throw on" to plant seeds in her garden or hit up a favorite sun chair on The Highline is completely consistent with our perception of this cool downtown designer. And her totally enviable childhood pasttime of "picking figs and apricots" at her grandparent's orchard is a memory we'd like scientifically supplanted into our own subconscious, thanks very much.
Summer getaway:
"Shelter Island."
Warm-weather activity:
"Swimming."

Beat-the-heat solution:
"Organic Avenue's gazpacho on Suffolk Street."

Summer workload:
"Busy, but beats the winter season! Plus, the days are longer!"

Fondest childhood summer memory:
"Picking figs, apricots and pomegranates at my grandparents' house."

Summer uniform:
"A jumpsuit. Anything one piece that I can just throw on and that isn't form fitting.

Summer treat:
"Gardening."

Summer anthem:
"'Talk to Her' Soundtrack."

Summer style icon:
"Vanessa Traina. She balances edge and elegance in a cool way."

Ultimate NYC "vacation-for-a-day":
"The new part of The Highline. I love the walk, view and the food trucks!"