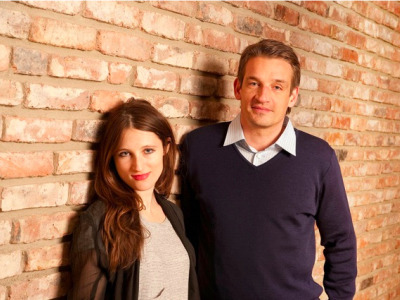 She may have recently relocated to Los Angeles, but designer Eviana Hartman of ultimate eco-chic label, Bodkin, is still a true New Yorker at heart.
Though Miss Hartman is keeping busy this summer preparing to ship her Fall 2011 collection and launch her company's first-ever e-commerce shop, she's still finding time for fun in the sun with a brand new hot tub, juice-making projects and a backpacking excursion through the Sierra Nevadas.
Summer Getaway
Summer is always too busy for any sort of extended getaway! This month I get to spend a few days in Berlin before my next fitting with Hessnatur (the German eco-retailer for whom I also design). I plan to hit some galleries, the new Andreas Murkudis store, and the Badenschiff (a shipping container swimming pool in the Spree). If the collection gets done early, my fiance and I might try to do some backpacking in the Sierra Nevadas, but that's a big "if"...

Warm-Weather Activity
Trying to figure out how to convert the as-yet-unused outdoor hot tub at our new house into a mini-swimming pool. The chemistry/sanitation part scares me.

Beat-the-Heat Solution
I love to make watermelon juice with mint. You can just throw it in the blender because it's 92% water!

Summer Workload
Summer has always been one of the busiest times of year for me. In the past, when I was an editor, it was always about getting the September issue finished! Right now I'm hard at work on the spring 2012 collection, and we start shipping fall very soon. We are introducing e-commerce for the fall season.

Fondest Childhood Summer Memory
We went to northern Michigan every summer and I have fond recollections of endless swimming in Lake Michigan, playing T&C Surf on Nintendo with my brother, and rolling down the gigantic sand dunes at Sleeping Bear National Lakeshore.

Summer Uniform
The Bodkin filament onesie is the perfect instant outfit for scorching days. It's instantly chic, very slimming, and has a dramatic neckline that also looks cool over a bikini.

Summer Treat
I am powerless against the fresh mint/dark chocolate ice cream from the truck in front of the General Greene.

Summer Anthem
Pink Floyd's "St-Tropez."

Summer Style Icon
Hope Sandoval of Mazzy Star.

Ultimate NYC "Vacation-for-a-Day"
My perfect summer day in the city would involve going to the Brooklyn Flea, sipping horchata while doing a little vintage shopping, then cooling off in a matinee at BAM, and riding a bike to dinner somewhere outside ... I miss New York just thinking about it!