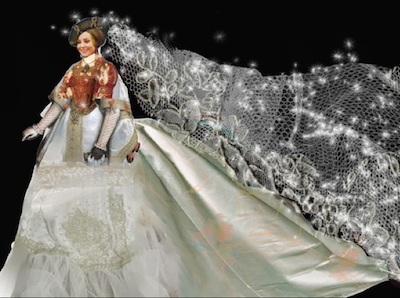 Because part of being a princess is having people do things for you, 29 top designers offered Kate Middleton their sketches of a fantasy wedding dress.
For the most part, designers opted for simple, elegant lines, reflective of the commoner's down-to-earth poise. Then, of course, there were the haute couture Victorian-contemporary hybrids from Karl Lagerfeld, whose high-neck, bow-bedecked confection was pure high-fashion Disney princess, and Christian Lacroix, who presented a paper-doll rendition of Kate's face on a patchwork, Elizabethan-inspired ballgown.
While Kate is almost certainly going to work with a British designer on her dress, we loved what some American and European designers had to say about their designs. Prabal Gurung might as well run for office with his statment: "The look is regal with respect for the heritage of the royal family but represents what modern Europe is all about." Considering, however, it goes along with a characteristically gorgeous, feminine-sleek ballgown style, we imagine (and hope) he'll stick with fashion design.
Common among the designers is the idea that Kate's dress will represent the antithesis of Princess Diana's opulent fairy-tale gown--even that gown's designer, Elizabeth Emanuel, who, for Kate, presented an intricately detailed, but pared-down number with bracelet sleeves. J. Crew wedding guru Tom Mora, Kimberly Ovitz and Gucci's Frida Giannini offered up minimalist column dresses at the very end of the simplicity spectrum (all of which, we think, would look sensational with a crown).
If Kate had to pick one from the bunch, our money would be on J. Mendel's ruffled, but unadorned number, but it's anyone's guess. Knowing her, she probably already owns it. We'll just have to wait and see.