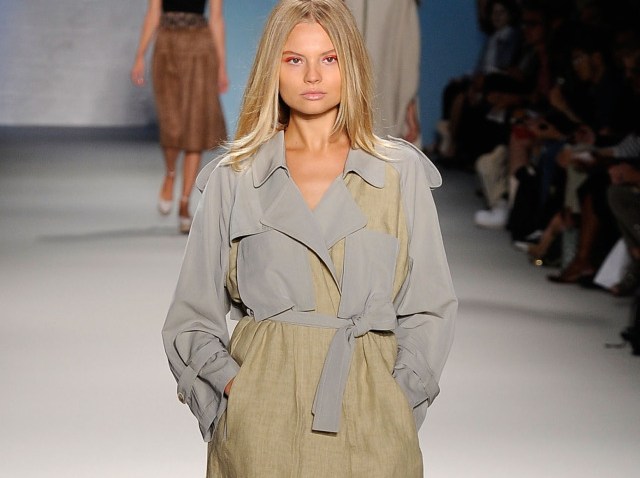 Lam's 10AM show at Lincoln Center started a bit late to let the still half-asleep masses make their way in, no doubt recovering from Saturday's late night. Leighton Meester, Robbie Myers, Rashida Jones, Anna Wintour, Rachel Zoe, Jenna Lyons, Suzy Menkes and more were all in the front row, making it one of the morning's can't-miss shows.
Lam reprinted excerpts from a New Yorker article on a minimalist-influenced art community in LA, and the parallels in his collection were evident in relaxed trench shapes, high-waist denim with silk tops, and breezy styling.
The first series of looks were heavy on denim (in some cases denim-on-denim, proof positive J.Crew's Jenna Lyons is onto something), including '70s-inspired high-waist jeans with wide-leg pants that had an utterly sunny American feel. The collection overall felt like pitch-perfect weekend dressing with its swing jersey dresses and gauzy printed maxidresses -- all telegraphing a West Coast brand of effortlessly put-together style. Gestures toward the west coast school of arty minimalism were evident most especially in a series of elegant, detail-free white dresses at the close of the collection.
Overall, it felt like the best kind of spring collection -- in which it's clear that a lot of thoughtful design decisions took place, but the result seems fluid and utterly relaxed. This, indeed, is a true skill which Lam seems to champion season over season.