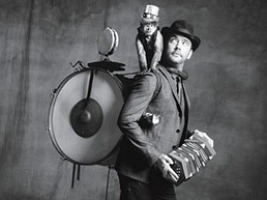 Rigged with a one-man-band contraption built from vintage instruments, Dave Matthews stars alongside Coco the monkey as the face of John Varvatos' spring ad campaign.
Varvatos is known for pretty stylish ads and a downtown-inspired aesthetic, so the choice of Matthews does feel a bit off for the brand. Apparently, though, the musician is taking a year off from music in 2011 and spending his down-time with the designer. As the designer told WWD: "We feel honored that he has chosen to collaborate with us to create such timeless imagery for this season's campaign."
Matthews also indulged his fascination for antique musical instruments and historic carnival curiosities during the shoot. In addition to the print campaign, Matthews collaborated with Varvatos on a short film to accompany the campaign, which you can watch on the John Varvatos website here.