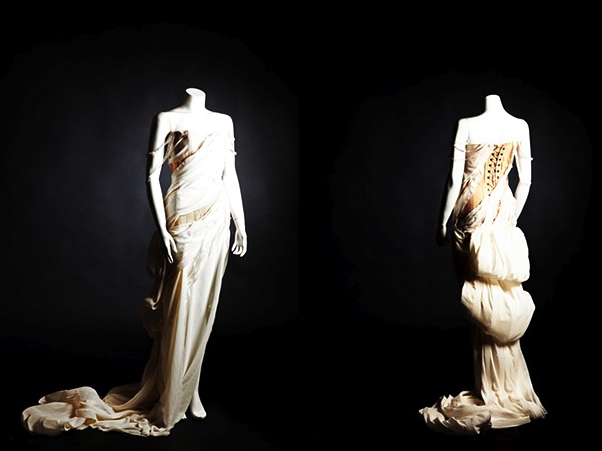 Daphne Guinness' couture collection on display at FIT includes garments by the likes of Alexander McQueen, Christian Lacroix and Gareth Pugh. But brows furrowed upon encountering the name "Hogan McLaughlin" on several placards, which got us to wondering: Just who is this talented newcomer, and how exactly did he find a patron in Guinness, of all people?
As it turns out, 22-year-old McLaughlin is a Chicago native who, up until two years ago, was working as a professional dancer before a fortuitous Twitter encounter introduced him to Guinness and, eventually, paved the way for his move to New York City. Now standing smack in the spotlight, we caught up with the designer to see how he's dealing with his whirlwind rise to fame, and what he has planned for the future.
It feels like you kind of exploded onto the fashion scene out of nowhere. How long have you been designing?
This [season] was the first time I ever produced a collection, but I've been drawing for a long time. Even when I was a little kid, I was always drawing shoes or elaborate costumes on these characters I would create ... I'd always kind of wanted to purse fashion professionally, I suppose, I just never had the right opportunity to do it. And then I met Daphne on Twitter, and we put a few of my more extravagant pieces into production. They were extremely elaborate, totally one-of-a-kind. Things not many people could wear. And those were the pieces that eventually ended up in the windows of Barneys. After all of that happened, I thought to myself, well, if any time is right, it's right now!
Tell me more about your introduction to Daphne. It can't be often that celebrities meet their Twitter followers.
I was on Twitter -- you know, much to my dismay -- because of a project I was working on with the dance company I was with. We were doing a satire on social media, and we would live-tweet the audience throughout it. But anyway, it kind of sucks you in, as social media does, and I'd always respected Daphne's personal style, and her artwork, and her mind, so when I saw her on Twitter ... I sent her sketches and drawings that I'd done. After a few months, she responded to one of them and said, "Let's make these. We have to do this."
What was that first face-to-face meeting like?
Right off the bat, we knew we had a lot of similar interests. We started talking about music, and films. It was kind of like, there was no real introduction. I remember her saying that she was nervous to invite a complete stranger into her home, and she said within five minutes she knew we had this friendship, the connection, and that it wasn't strange at all. We were very comfortable. We have similar minds.
What kind of influence, if any, do you think your dance background has had on your design work?
It's had a tremendous influence. In terms of the lines -- there's a lot of motion in the drawing that I do, and I like to accentuate the musculature, and the curves. I think that really stems from my dance background, and having this kind of heightened awareness not only of my own body, but of other peoples bodies.
Where else do you find inspiration?
I'm a big fan of Edward Gorey, and his illustrations. Tim Burton, obviously, is a huge influence. "Game of Thrones" on HBO -- it was a book series prior. [As for other designers], I love the darker ones like Gareth Pugh and Rick Owens, and of course McQueen. I suppose I like thoughtful designers. I really like Christopher Kane's collection this season. Even though it's completely different from what I do, I thought it was brilliantly crafted. A lot of the younger designers coming out of London right now, and Central Saint Martins, I think they're really interesting and exciting to watch.
I hear your pieces can be extremely time and labor-intensive. How long does it typically take to make a garment?
Simpler gowns would probably be a week to get the fabric and a week to produce, so two weeks. The coat that Daphne wore [to the FIT exhibit opening] was 100 hours of work. But it's one of those things where we have the pattern, so if somebody wants it in a different fabric, then of course we can do it. Right now, I'm in a place where I can work with a client individually to make something work for them.
You've had a really remarkable first year. Where do things go from here?
I'm starting production on the next collection for February, but also trying to speak with some companies and interested boutiques here and there. I think now it's about getting all the pieces together. I can't mass produce right now, I don't have a very big team. It's just me and one other person, a seamstress that I work with. I would love for [the label] to expand but at this point, I'm running things on a completely custom basis.