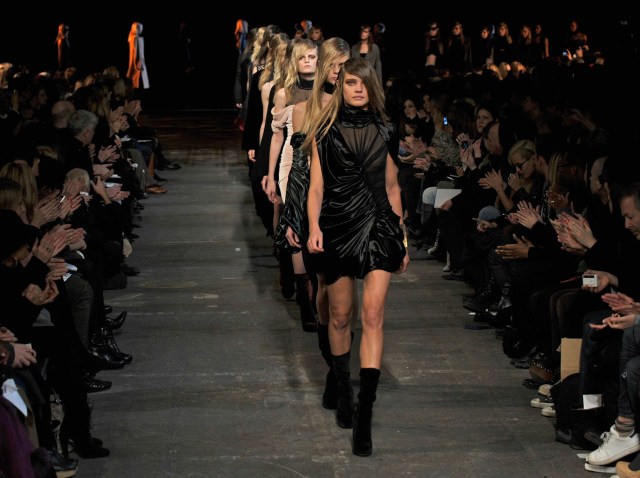 Prabal Gurung's cocktail dresses drew hordes, while fashion's A-listers turned out for Altuzarra, but in the end, we always knew what today would be about: boy wonder Alexander Wang.
Laurel: It's a difficult task to both mature as a designer and also maintain a cohesive through-line with your previous work. In the case of Wang -- who is, let's face it, really still a baby by industry standards -- he's turned out a series of incredibly interesting, different-feeling collections over the past few seasons that have all, however, managed to toe the same line. In this fall edition, it seems Wang has really found his groove, latching on to '90s cultural touchstones like "Clueless," grunge glam, and the high-fashion glam of Tom Ford's Gucci. The nod to Clueless (which I must credit Derek Blasberg for first pointing out) is there in the short pleated skirts, pinstripes, and thigh-highs; '90s-era grunge in the seriously dirty hair (let's hope this, unlike Wang's braids for spring, does not catch on), crop tops, and leather separates; and Gucci's sexy appeal in the mix of velvet and lace, as well as draped minidresses. I'm not entirely sure which came first -- our collective yearning for the authenticity of the '90s cultural moment or Wang's persistent channeling of its aesthetic -- but it's here to stay.
Blair: First of all, I always love a good backpack, and my spinal cord is grateful to Mr. Wang for including them on the runway today. As for the collection, I agree it looked very, well, "Wang-y" -- perhaps even more than his football-inspired spring collection, which was a much more directional and specific vision. It's of course going to fly off the racks, but I do wish he'd explored a bit more precise or explicit idea because it's so much harder to do well. Not that sexy-goth isn't also hard to do, of course.
Kelly: From what I've seen, I do like it. I thought it was more diverse than his spring collection -- a litlte bit dirty vixen, with borderline trashy mixed in -- in a good way. The menswear elements (boxy jackets and the like) were also not only interesting, they were surprisingly hot. Bare midriffs, velvet, and slip dresses with lacy trim -- it's all so ... adolescent. But then, I still like it.