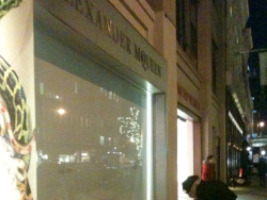 The news that iconic designer Alexander McQueen was found dead in his home broke in the morning and by midday, the presentation slated for Alexander McQueen's secondary McQ line was canceled. With most editors out of their respective offices and trekking around the city at various shows, word of the tragedy spread through Twitter, text messages, and the old-fashioned way -- in whispers.
Laurel: I arrived at MAC & Milk's downtown location to find everyone a-buzz that McQ was canceled and frankly, how out-of-the-blue it felt. There we all were, having planned for weeks strategizing our Fashion Week game plans, and we were all completely derailed. Because of that, it seemed like everyone was trying not to dwell on it -- like we all might just sit down and give up if we did. Instead, everyone was moving just as quickly, asking the same backstage questions and moving things along. If you didn't know better, you might not have thought such a tragedy had taken place. The one exception was on Twitter, where it seemed you couldn't blink without seeing someone weighing in on the event -- from Christian Siriano saying how McQueen "inspired [him] in every way possible" to the ever-tweeting Robert Duffy saying, "Just can't believe it! Tragic loss. What a talent."
Blair: I think the overall excitement and energy that normally goes along with a Fashion Week kickoff was way diminished today. At Richard Chai this morning, everyone seated around me was on a cell phone, breaking/receiving the news to friends or coworkers. More than a few Front Row-ers were crying. I overheard one guy sitting behind me say we're going to be reminded of him every day this week, because we'll see his influence all over the runways.
Kelly: I think the shocking news of Alexander McQueen's sudden death, besides, of course, saddening the fashion community, made everyone think. Just the day before we were fretting over a blizzard -- how soon things can change. I spent the morning following the tens of thousands Twitter posts of sorrow and shock, and didn't make it down to MAC & Milk until later in the afternoon. People were trudging on with a "the show must go on" attitude, twinged with a pervasive solemnity that threw a hush over the typically crazytown atmosphere. At the end of the night, I walked by the Alexander McQueen store in the Meatpacking District, whose windows had been papered. Mourners had laid bouquets of flowers along the sidewalk at the storefront, and several people were crouching to reflect and memorialize one of their industry's brightest talents.
Kendall: McQueen was one of the designers that inspired 14-year-old me to want to work in fashion. He made fashion more about feeling than clothing. Most editors I've talked to tonight echo a sentiment of disbelief ... like come Paris fashion week, this will be a bad dream and they'll still be watching his show, per usual.