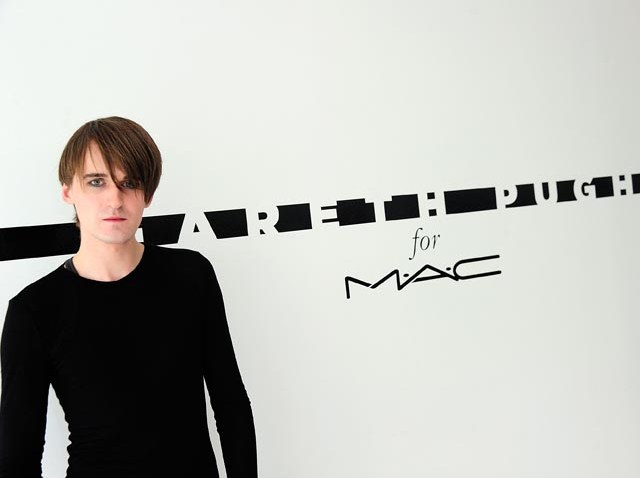 Rising star designers partnering with large retail chains is nothing new, but the latest trend for fashion's up-and-coming set is to collaborate with beauty brands. This fall, Gareth Pugh is launching a collection with MAC Cosmetics, Charlotte Ronson is collaborating with Sephora, and Giles Deacon is debuting a line of nail polishes with British fast-fashion chain New Look. It's a marked shift from the way things have worked in the beauty world for decades -- when designers would wait until they were a household name before diving into the highly lucrative cosmetics world. Take Giorgio Armani, who established his namesake line in 1975, and didn't launch a cosmetics line until his 25th anniversary in 2000.
Why the sudden shift? For rising star designers and their beauty partners it's a win-win. Designers get brand exposure without having to dilute their namesake collections, and as an added bonus, beauty brands sometimes step in to help sponsor a designer's Fashion Week show (certainly a big financial advantage). The beauty collarations are often lucrative unto themselves, and provide designers the opportunity to recession-proof their businesses -- no matter what is happening in the economy, women still buy makeup. For beauty brands, there's the profit factor, not to mention the burst of publicity and buzz that comes with being associated with a fashion darling.
Lancôme started the trend with its Pout-à-Porter series of lipsticks, which launched in 2006, working with the likes of Thakoon, Peter Som and Proenza Schouler on limited edition shades – most generated lengthy wait lists and sold out. Chris Benz, for instance, recently collaborated with Lancôme on "Chris and Tell" in 2009 -- a peachy neutral lipstick -- and on a gift-with-purchase tote this year, which was sold at Saks Fifth Avenue. Lancôme has also helped sponsor his fashion week show for the last several seasons.
Gareth Pugh's motivation for working with MAC on a line launching this November likely has to do with finding mass appeal, on his own terms. Pugh, known for his Goth avant-garde sensibility,
discussed the line with Fashionista:
"It's something that, for example, my mother would be excited to get at Christmas, but it's nice that it's something everyone would appreciate, it's nice to do something more universal." Pugh says the packaging of the collection will reflect his architectural and futuristic aesthetic. MAC has collaborated with Pugh on his runway makeup since he began showing seven years ago.
Charlotte Ronson's beauty line for Sephora, which hits stores in September, will similarly provide an entry point for consumers into her brand. The products will range from $14 dollar heart-shaped lip glosses to $28 dollar vintage inspired cosmetics cases. Each product will be named after one of Ronson's famous friends including Nicole Richie and Drea de Matteo.