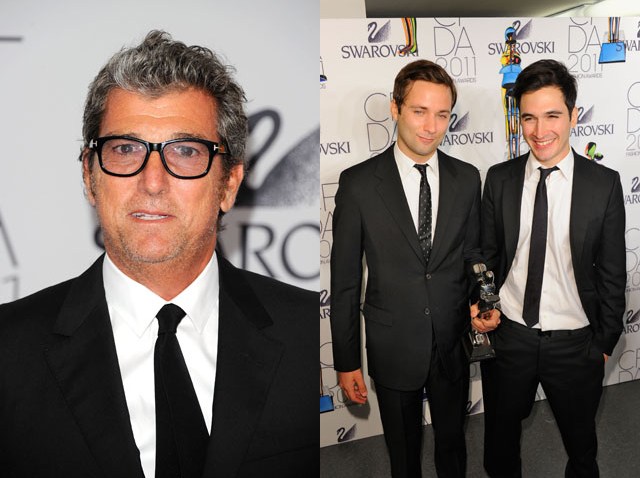 Rumors started circulating late last year that Andrew Rosen, co-founder and CEO of Theory, was buying private equity firm Permira's 45 percent stake in Proenza Schouler. The rumor was all but confirmed in the February issue of Vogue, where the deal was described as being "on the brink." Six months later, WWD is now reporting that the deal is finally set to go through as early as the end of the month. So what's been the hold-up?
The Valentino Fashion Group bought a 45 percent stake in Proenza Schouler for $3.7 million back in 2007. The rumor at the time was that Proenza Schouler designers Jack Hernandez and Lazaro McCollough were to take over for Valentino Garavani upon his retirement from his namesake label. It never happened -- Garavani retired in mid-2007 and Alessandra Facchinetti took over (she's since left the house). Around the same time, London-based private equity firm Permira acquired a majority stake in the Valentino Fashion Group, paying 782.6 million euros. While private equity firms are nothing new in fashion, they often expect quick returns over a three- to five-year investment period, which is rarely enough time to reposition or develop a fashion brand.
Early last year, the murmurs began that Permira wanted to unload Valentino and Proenza Schouler from its roster. Speaking to Proenza Schouler specifically, sources inside Permira reportedly saw the growth opportunity with the brand, but felt it was bleeding cash. The acquisition of Proenza Schouler had come during a highpoint for luxury spending, and 2010 was a very different retail environment: The firm wanted to cut its losses.
Enter Andrew Rosen, who is said to have started eyeing Permira's stake in Proenza Schouler late last year. His acquisition of the brand will be separate from his role as co-founder and CEO of Theory and related to an investment group that he is leading. (Rosen has also made personal investments in Alice & Olivia, Gryphon and Rag & Bone.) He also has a history of building fashion brands in particular, whereas Permira owns stakes in a range of companies -- from medical device-maker Creganna-Tactx to frozen foods producer Birds Eye Iglo.
"The first part of the fund is recovering rapidly and includes some strong performers. The whole second half of the fund, invested since the recession hit, includes real winners. We're now working for the upside."
Hugo Boss, in particular has been a star performer. The hold-up, insiders say, has to do with the terms of the deal, which Permira has not been satisfied with. Permira initially began trying to unload Proenza Schouler during the doldrums of the recession -- and now the company finds itself in a far stronger position to dictate the terms of the sale.