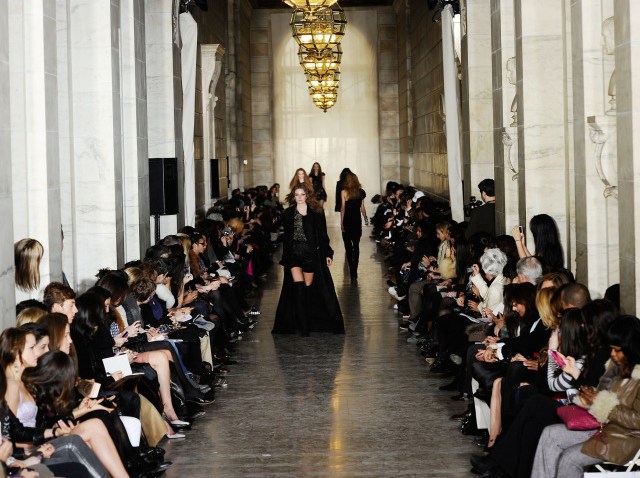 For anyone who ever had any doubts that fashion could be as expensive as it looks, we've got news for you: it is. When we heard the shocking news that veteran couturier Ralph Rucci was saving $500,000 by canceling his runway show in favor of presenting his collection through a series of showroom appointments, we were left to wonder, how could 15 minutes of runway time add up to such stratospheric costs?
In recent years, designers—even the big-name ones—have opted out of showing their collections under the grand-scale tents at Bryant Park and now, Lincoln Center, choosing instead to hold their shows off-site at Milk Studios or other independent galleries and event spaces throughout the city. Besides the diversified character of presentations that designers are after, these spaces offer a significantly lower price tag than Mercedes Benz Fashion Week's average venue rental at Lincoln Center, which ranges between $15,000 and $50,000. And anyone who's planned a wedding knows what's coming next: that's just the empty space.
Then there's the "talent," which can actually add up to far more than the venue. While there's no fixed rate for a model's services—payment can vary from clothes, to fees ranging from $500 to $10,000—an article in the NY Times last year noted that a budget for models can cost as "hundreds of thousands of dollars per show." According to a casting designer we queried, it really all depend on the designer, the time of day of the show, and of course the demand for the model. That said, an "it" girl walking for Oscar, Ralph or Calvin Klein first thing in the morning could prove quite the investment.
Besides the space to host the presentation and the models to present the actual looks on, production costs—lighting, backdrops, sound and music, even backstage catering—can soar to astounding numbers, especially if a designer's really bent on putting on a show. Ten minutes of a mist-filled faux-enchanted forest pulsating to the beats of a live band can climb into the six-figure range as well. And that's just what we see on the front end. Backstage, a designer must employ an army of hair and makeup artists, some of whom might command as much as $10,000 per show, stylists, dressers, on-site seamstresses, a director of sorts to make sure the models know their cues, not to mention a PR team to put everyone in their seats and get the collection ample coverage in the media.
Of course each and every show will command a different budget, but it seems Rucci's production costs are far more the norm than the exception. Clearly the designers are putting a lot of stock into recouping these fees through sales of their collections, but as one well-known photographer told us, it might just be a matter of time before they start charging for tickets to their lavish productions.