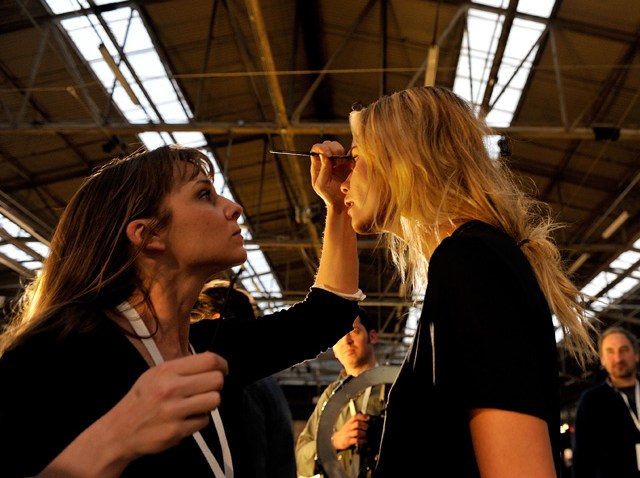 Fashion Week is just days away. In our Countdown to Fashion Week, we examine what designers and insiders are working leading up to the New York Spring 2012 collections.
Labor Day weekend for most fashion designers tends to be just that -- hard labor -- with many talents putting the finishing touches on their fashion week shows. Model castings, music decisions, hair and makeup tests and the styling of looks happens just days before a designer's show, and tweaks can happen up until the moment a designer releases their models onto the runway.
Marc Jacobs is notorious for making last-minute decisions about his show, for instance. Last season, the designer didn't even have the idea for his elaborate quilted vinyl show set until a week before go-time. And whether a designer is a last-minute idea person or a forward-thinking planner most will say that there is an endless to-do list leading up to fashion week, and there is always one last thing on it.
Most designers work around the clock in the days leading up to their shows. Marcia Patmos, designer of M.Patmos, told us that her Labor Day Weekend involved, "Castings, fittings, hair tests, makeup tests, waiting for a few last minute samples and shoes to arrive, costing, working on music soundtrack and hopefully not personally beading anything!" Patmos is showing her collection on the first day of Fashion Week, September 8th.
Patmos certainly wasn't the only designer locked in her studio. Christian Cota worked on final fittings. Tory Burch held model castings. Chris Benz worked through the weekend as well -- holding a model casting on Friday and starting to put together final looks on Saturday. There was also music to plan for his presentation, which is taking place on September 12th at Lincoln Center's Avery Fisher Hall.
Elie Tahari is putting the finishing touches on the collection, inspired by ancient Egypt, and which is focusing on lean and elongated shapes. Tahari told us, "Feather and gold accents [are being added] to the show stopper piece" in anticipation of his September 14th Lincoln Center show.
For many designers, their favorite part of the fashion week process is seeing their vision come together in the final days. Ports 1961 Creative Director Fiona Cibani told us that she is excited to see her upcoming collection "express my vision of the future deluxe. Silhouettes are sculptural and embellished with innovative details -- manipulated pleats, broken glass mosaics, iridescent shine and transparency."
And after several months of work that boils down to essentially a couple of minutes of fabulous clothes, perfectly coiffed models and beating music, no one can blame designers for relishing the final few moments before they see their final collections hit the runways.