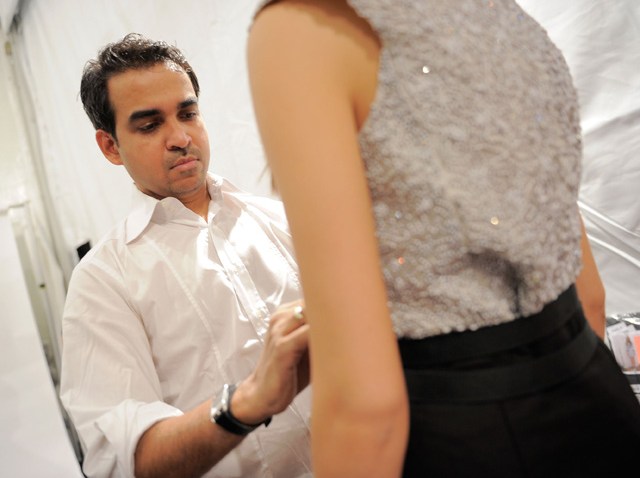 Fashion Week is just a few weeks away. In our Countdown to Fashion Week, we examine what designers and insiders are working on this week.
While all of New York seems to be on vacation, fashion designers across the city are holed up in their studios hard at work on their Spring '12 collections, which will be presented in just a few weeks. Most are finding themselves in the midst of a juggling act in anticipation of their big day -- finishing up fittings and putting the finishing touches on garments like trims and beading. The process of completing a collection isn't a linear one, though, and most designers say that different pieces in their collections are in different phases of the process at this point.
Bibhu Mohapatra (pictured) is just one of the designers in the eye of the storm. He told us that right now he is "editing designs, fitting muslins, and making samples, all at the same time" in anticipation of his Sept. 13 presentation at the Lincoln Center tents.
Where Mohapatra is in the process sheds light on just how quickly a collection develops -- after all, most designers today put out four collections a year, which doesn't leave months and months for designers to tweak and agonize.
Most designers begin by sketching, then draping muslin (Mohapatra's favorite part of the creative process), and then finally making a muslin sample. Muslin -- inexpensive, unbleached, loosely woven cotton -- is used to test pilot the garment in order to make a sewing pattern -- essentially a road map for the final piece. Muslin offers designers a layer of protection so they don't have to cut into costly fabric before they are ready. When a muslin sample is finished, designers are then able to create a finished sample -- what is seen on the runway at Fashion Week.
Chris Benz is another designer who finds himself balancing 101 things to do in anticipation of his Sept. 12 presentation. He told us: "Right now, we are wrapping up muslin fittings and everything -- fabric, patterns, buttons, linings, trim, and embroideries have started to go out into the universe to be made into samples. Fabrics have arrived from Japan, Italy, France, England, and Switzerland; fabrics have gone overseas to India for beading; and all the pieces are slowly coming together."
When all is said and done, Benz says, "My favorite part of the process is really the decision-making, and the agony of committing to one direction. Once the decisions have been made, you really have to get beyond them, so I always try to be as instinctual as possible. And, of course, the icing on the creative cake is having a showroom full of newness, and then being able to style the collection into what it ultimately becomes."