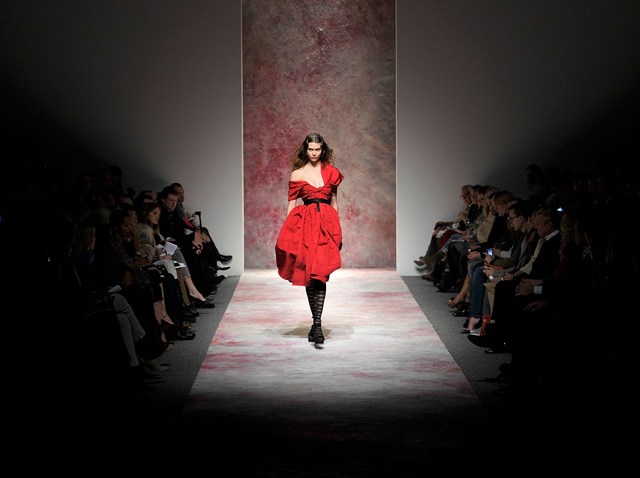 Fashion Week is officially under a month away; In our Countdown to Fashion Week, we examine what designers and insiders are working on this week.
With just under a month until New York fashion week kicks off, one would think designers would have secured their fashion week venue months ago. However, while most New York-based designers show their collections once during September and once during February, many don't decide where they will actually be holding their shows until about six weeks prior. (To put that timeline in perspective, most people book a wedding venue over a year in advance). Some cut it so close that it's not uncommon to get a "save the date" for a fashion show without the venue even being listed. We talked to several designers who asked not to be named who also have yet to confirm where they will be showing come September.
Designers say they have a lot of consider: cost, location and of course ambiance. Rising star designers emphasize the importance of picking a convenient location to ensure that top editors and buyers will make the trip to see their collection. There is also a lot of competition over spaces -- with hundreds of designers showing in the span of a week, sometimes the choice location has already been booked and it's back to the drawing board.
The most obvious choice for designers is the Mercedes-Benz Fashion Week tents at Lincoln Center, which many designers consider costly but also applaud its ability to be all-inclusive -- the venue has everything from a backstage staging area to chairs for guests. The upcoming September shows at Lincoln Center will include stalwarts of the New York fashion scene including Carolina Herrera and Michael Kors, as well as newcomers like Honor and Candela.
Other designers vie for space in Milk Studios, sponsored by MAC Cosmetics, which is free for the designers who make the cut. Mazdack Rassi, founder and creative director of Milk Studios, says: "We're following the fashion calendar. So everyone has to have a date approved first. Then, we try to figure out if it will be a show, presentation, exhibition, or event, and we try to place them within our venues." The announcement of the MAC & Milk calendar is expected next week, but designers who have shown in the past include Vena Cava and Joseph Altuzarra.
There are other off-site venues to consider, as well, including hotels, Chelsea galleries and museums. But these special spaces often come with a lot of extra work. Proenza Schouler, for instance, showed last season in a raw downtown space off of the Westside highway. With no room for a backstage, hair, makeup and dressing was done a block away from the actual show location. What was no doubt an extra hassle for the Proenza Schouler team meant being able to show a Navajo-inspired collection in a vacant space with exposed brick walls accented with light installations.
Even more challenging are the quirkier locations designers sometimes opt for. Elise Overland showed her last collection on the pop-up ice rink at the Standard Hotel. "I had come back to New York in January and I had no idea where I was going to do my show. Everything felt really repetitive. Then I saw the ice rink, and one thing led to the other," Overland says. The location for her Spring 2012 collection is still under wraps.