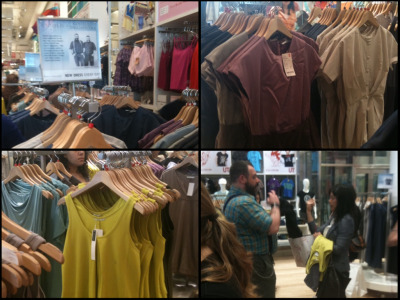 Much like Jil Sander made a personal appearance at the launch of her +J line for Uniqlo, Jeffrey Costello and Robert Tagliapietra -- the designers behind Costello Tagliapietra -- stopped by the Soho flagship to mingle with shoppers at the launch of their new Costello Tagliapietra for Uniqlo line (and chat with us).
The beaming duo were mingling and casually arranging hangers while the actual sales staff flitted around like bundles of stress, for some reason. After a significant line formed to raid the line of dresses upon the store's opening, there were still a number of styles left but sizes were limited (most of what we saw were sizes extra-small or small, with a few mediums thrown in). Granted this was just mid-morning post-rush, so there may be a re-stocking in the works. The dresses were simple and varied, dominated by distinct Costello Tagliapietra draping and Uniqlo minimalist silhouettes in muted neutrals.
This was the first time you collaborated with a mass-market retailer. What was the motivation?
It's a funny thing, because we've been asked if we were going to do this sort of thing for so long, and for us, in our heads, we always wanted [to work with] Uniqlo because it just matches aesthetically and conceptually with what we do as a brand, so when the opportunity arose it was sort of a no-brainer for us. The quality is so good, they don't skimp on anything and it's still beautifully made, beautiful quality fabrics and that was important to us. If we're going to put our name next to it, we wanted it to be cohesive with what we do.
What were your influences for the line?
It was sort of based on the girls we know, and work with on a daily basis, and what they wear during the day. And our dresses, as much as we'd like to imagine someone buying them as a day dress, they sort of become more specialty items for people because they're spending money on it, they want to cherish it, they want to wear it at night. So this was something for them to wear during the day, something like a t-shirt.
Any favorite pieces?
It changes day to day, they're all kind of special in their own way. Of course we veer toward the drape-y jersey dresses because that's so a part of our original DNA.
So overall, how did you like it? Would you do it again?
We would love to do it again. It's been such a pleasurable experience and it's nice for our brand, too. It gets the name out there and you know, when something just works, it's nice. It feels right.
That was nice of you to come down to the store to talk to everyone!
Oh, yeah - this is so fun for us!